Start of Season Standout – Tennis
With the start of spring sports underway athletes are starting to stand out invert sport. Freshman Annabelle Kenny has already shown her impressive skills in tennis making Varsity 1 in the singles one position.
Kenny has played tennis for about twelve years. She started when she was two and a half where she fell in love with the sport and has played ever since.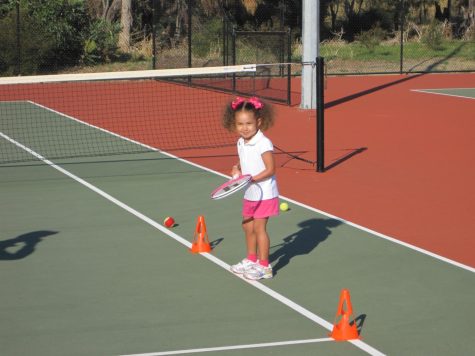 Although when she first tried out, at two years old, the coach told her parents she wasn't old enough and would have to wait until she was four. She made a lasting impression and the coach let her play, giving her a head start .
"When I moved to Australia there were tennis courts down the road from our house, and my parents thought it would be a good way for me to make friends."
She lived in Australia for almost four years where she spent much of her time playing tennis.
"My favorite part is when I have a challenging opponent and I do better than expected, but I also love the outfits."
As Kenny continues to grow and improve she loves the idea of playing in college. "I love tennis and I would love to play in college, but I'm not sure it is on the table yet." The beginning of this season is already showing that continuing to play at the next level would be a real possibility for her.
"So far, the high school season has been a lot of fun. My main goals for the season are to get to state and improve my gameplay."
The Holy Family tennis team is scheduled to compete in their first match next Tuesday where Kenny will be sure to show off her impressive play.