Senior Wills: What the Class of 2020 is leaving to the underclassmen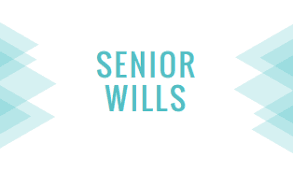 Cavin Alderfer:
 To Lily, I will you a senior year full of post-football game Chick-Fil-A runs, prom and graduation parties, and the warmth of your friends' smiles. In other words, my wish is that you get to enjoy all the incredible experiences we shared together at Holy Family, and much more. Love you, sis.
Marrissa Avila:
– Glow Babies: I will you the strength to continue to persevere through whatever you shall face not just in high school but in life. I hope that in the time that I got to spend with you cheering that I have taught you some useful tools that will help you through life. Please have each other's backs, protect each other, and care for each other as if they are your family. At the end of your high school career you will realise that the girls that you have trained with have become your best friends and I dare say sisters. I just want to thank you for making my senior cheer season one that I will never forget. One last thing remember who you are and where you came from, never change for anyone, and never settle. I love you girls the mostest!
– TTT Members: I will you guys the biggest and toughest challenge you possibly may ever face. Surprise! I'm willing you guys the older sister badge and I give you permission to spy on my little brother and kick his butt when he needs it. But I also ask that you guys protect him as I would and I picked you guys because in many ways you guys are my mini-mes. I know this is a lot for you guys but I trust you wholeheartedly and I know you'll do great. Also I trust you to wreak havoc as I would I love you guys, you're my queens.
– Logan Erickson:  I entrust to you my little terror of a brother. You can watch him in the ways my girls can't. Please watch him during football and wrestling I trust that you will protect him like your own brother. It will mean a lot to me since I won't be around to protect him and make sure he's not getting into too much trouble. He's the most valuable thing I can trust you with, so please take care of him for me.
– Rylan Alpers: I leave you strength, I know how strong you are and how much you've been through. But we all have those times where it all seems too much to handle, so in these moments I hope the strength that I give you will be the little push you need to keep going. Oh and don't forget I will be here for you no matter what. You make the world a better place, never forget that.
– Jacob Barry: I leave to you my lack of caring about what people say, be true to who you are and never let anyone bring you down. Remember people seek to bring those who threaten them down, so take it as a compliment that you are a threat to them. Don't ever change for anyone.
– Lindsey Deau: Stay golden, Ponyboy.
– The Queens and Kings of Holy Family: this is for those of you who have helped me get through high school. I appreciate all of you more than I can express with words. I leave you guys hope, for when you need a shoulder to cry on or just a boost of energy, just remember this too shall pass. Never give up on yourself, believing in yourself is the most dangerous weapon you can have. I believe in you and I know you will go on to do great things in the world, your kindness is something I will never forget. I love you guys and I will you being the queens and kings of everything, the crown was bestowed to me by Alondra Mojica and now I give it to you guys.
– Marissa: I will you the title of being the only Marrissa/Marissa in the school. Be proud of this title I have had it since junior year and now I give it to you. (If there's another Marissa/Marisa/Marrisa/Marrissa that I don't know about I'm sorry).
Adam Bartoletta:
Lindsey Bartoletta- my determination toward everything
Logan Erickson- my motivation during the wrestling season
Chealen Berry:
To Lizzbeth Villalobos, Leah Valencia, Kate Villalobos, and Isabella Marquez… I will you the duty to carry on our XC adventures every easy day (don't forget the loops and British accents) and my eternal commitment to never walk
To the Junior XC girls… I will you the tradition of Running Skirt Wednesday – don't let it die!
Ella Chapman:
Jadynn Abeta and Josephine Romano- big sistership of cate Chapman
Bailey Jones- lax aux and the nickname slash
Ariana wise- baby broom and swim aux.
Maggie Garrett- lucky number 7
Megan Smolky- all lunch announcements and morning songs
Shawn Dean:
Cord Kringlen: The Protein Bucket
Brody Welch: Pregame Song
John Hulquest: #75 wear it well bud
Thomas Pittenger: Pre Game Chicken
Bianca Eldridge:
Anna Hodell: Cinnamon F.B.G.M.
Nina Finocchiaro:
To Dylan Sanders: guardianship of Gi & please make everyone braid hair for xc on the track )); you BETTER not quit
To Teagan McGee: a better rebound lol
Dani Flores:
Caitlin Johnnides- Hey honey! Im leaving you on theatre/choir mom duty and I hope that's ok! <3
Leah Fuller- Can I leave you in charge of looking out for our choir/ theatre newbies? Teach them how we do things and make sure they know that they always have a home in the arts!
Theatre kiddos :)- I'm willing you amazing people all of my love! Keep our creative space safe and open to everyone. Beautiful, good things come from the stage! Rooting for you all every day!
Peyton Frank:
Madison Forrs- #2 volleyball jersey
Jackson Fuller:
Leah Fuller: All of my academic and musical ability
Willa Koster: All my card playing skills
Connor Lee: All of my athletic ability
Noelle Gardon:
Cassidy Chvatal: Softball DJ, and leading the meeting at home plate after wins 😉
Carly Eldridge: A-Star jar
Jenna Pfenning: 3-2-1-WHOOSH
Daniella Hren:  our daily Dunkin coffee runs
Abby Edwards: Co-softball dj
Cole Greany:
Garrett Havens – #7 Jersey for soccer. Keep it 🐐
Garrett Green:
Izaak Siefken & Anthony Trinh: The football student section and all of its honors. Stay loud and proud.
Michaela Herbst:
Sophia Parker- I will you my lucky tennis racquet and to have joy and happiness throughout the rest of high school.
Sam Wells- I will you my artistic abilities with ceramics (which are not very good lol).
Lindsey Bartoletta- I will you my choir sash and to have the best senior year ever!!
Gianna Landretti and Brennan Musgrove- I will you my pre-show theater rituals and lemonade packs.
Megan Harvey- I will you my lack of walking up the stairs without tripping. 😉
Ryan Harvey- I will you my driving skills!!
Jake Mason- I will you my Marvel and high school musical DVDS.
Ashlynn Hill- I will you my painting skills
Dominic Gallegos- I will you to have the best high school experience full of kindness, joy, and happiness!!
Hannah Hodgson:
Griffen Keener- Diabetes
Haley Horning:
cha cha, sara anderson, and abby rice: head student trainers for football season!!
sadie bren and emily lindoefer: lattes with the lord club :)))
kaylee vanhandel: my killer dance moves
brennan hill: my driving skills
jake lucko: the piece of gum i found under one of the desks during a stuco meeting and my awesome tour guide skills
lizzbeth villalobos: the blood drive!!
ryan chacon: my math skills, i know you'll need them!
Taylor Jones:
Liam Gray- Number 17 for football
Madison Lounnivongsa:
Quinn Sousa (Quinque): falling asleep during movies in Latin, making the best cards in Latin, my number in Latin (4), and taking care of Dr. G.
Brooke Lovato:
To the HF Cheer Team: I will you my dedication to the sport and I know that you guys will do great things next year.  To Mia Paulson, Ally Merrion, and Kelly Bondurant: I will you my leadership and I trust that you will take the team back to state and take a title next year.  To Leah Fuller and Ella Daub: I will to you my DS and I love you both with all my heart.  To Caitlin  Johnnides: I will to you my baddie energy you beautiful soul
Franny Macri:
Quinn Sousa- My latin translating skills
Izaak Siefken- My outstanding strength for weight training
Anna Martinez:
Tyler Whitlock: I will you Celeste and all the dandelions in the outfield
Celeste Garcia: I will you Ty
Brissa Campos: My softball jersey #11
Brennan Martinez:
Evie: I am willing you my second favorite rave cowboy hat because I can't get rid of my favorite.
Keaton: I am willing you some of my long sleeve polo and the craziness that I represent.
Paloma & Alana: I give you the ability to drive Mrs. Fire at any given moment
Jordan McDonald:
Kate Villalobos and Lily Alderfer- the lucky track "stick" (yes, I have decided to share :)). Please run with joy and pride, you never know when your last meet could be. Kick butt at state ladies!
Kylla Murrow:
Hailey Murrow- Friday song of the day for the morning drive
Ariel Rentmeester- Choco-milk time
Sally Napierkowski:
Marianna: keep up the xc tans;)
Marianna and Brinley: cornrowing hair, make me proud!
Lizzy and Lizzbeth: traveling the world in all your classes
Joe Silva: represent the gingers
Alyssa Wells: yelling "lady queen of victory" as loud as you can at xc practices
Ben Nappe:
Logan Erickson – football #3 to fulfill the position of being a small slot receiver
Benny Hernandez – football prayer before kickoff
Mike White – Co-Owner of the basketball student section
Patrick Staff  – title of the longest neck at hf, welcome to the giraffe club
Ben Neill:
Co-Student Section Leader for Basketball- Trevin Johnson
HFHS Student Section Instagram Account- Bailey Jones
Leo Nelson:
Matt Cusbal- To carry out my role on the golf team.
Blake Hammond- Sports on the announcements.
Brandon Pierret- Keep bench Squad alive, and to always tell Quinn when his goggles are fogging.
Aaliyah Perez:
 Hailey Murrow- i bestow upon you my nicest HF sweater. Take good care of it and don't lose it
AJ Perez:
Connor Cooney: the jersey number 17
Rachel Perez:
Katie Kirwin and Jo Romano: I leave you the legacy of the POI champions. You two keep at it, you're amazing
Baby Brennan: I know you're not lil baby Brennan but you know what I'm leaving you, love you kid.
Katie and Evelyn: Although you never got to be initiated, Maddie and I are leaving to you the tradition of frolicking outside on the lawn during intermission every show.
Grayce, Caitlin, and you soon to be senior theatre girls: The B Team
Vincent Piro:
To Benjamin Achziger- the human rights of Jake Mason
To Enrique Garcia- My gamer set up
To Parker Sanchez- My U2 cd collection
Liam Slavin- My prepd account
Kaitlin Rentmeester:
Hailey Murrow: the sole title of being my idol. I'm your biggest fan!
Ariel Rentmeester: Sadie the Sedona. She may not always start, but make the miles count!
Madeline Rouze: 
Jimmy, Mikey, and Jacob: Your freedom
Jimmy and Emily: My Monday night rendezvous
Caitlin and Grayce: Girls' dressing room chants
Evelyn and Katie: Intermission frolickin
Joseph Rupinen:
Alex Dean, Jose (Rafael) Gonzalez- Take the light booth, that you may shed light in the situation.
Isaac Rupprecht:
Elle Rupprecht- The Rupprecht legacy and my semi average parking spot
Makayla Salter:
Morgan Salter- being the top Salter
Madde Salter- being the lower Salter and #11
Jae Giron and Abby Coufal- bench squad leadership
Bailey Jones- daily talks with Mrs. D
Julia Simonson:
Brynn Hansen: the ability to park as bad as you want without anyone getting mad at you.
Andrew Spadafora:
Ali Spadafora – being the coolest Spadafora in the building
Bailey Jones – all of my baseball sons
Gabby Thomas:
Evie Boyd – The Mary Medal
Lizzbeth Villalobos – The Running Skirt Wednesday Tradition
Carly Trostel:
Maddy Pulliam: I will you to be the next volleyball prayer leader.
Kayley Roller: I will you the "Whose in this House" cheer!
Lexi Powers: I will you to keep the cheers loud and the energy high on and off the court 🙂