10 Minute Tiktok Videos?!?!
With the recent Tiktok update a couple months ago with the 3 minute Tiktok videos, Tiktok confirms that 10 minute videos will be coming to all users.
Is Tiktok still a short-form video platform? It seems like the app is moving farther farther away from short videos; 15 seconds and 60 seconds. With a July 2021 update, Tiktok expanded the video length to 3 minutes long.
Many Tiktok users think 10 minute videos are great! With many content creators having to post part twos and users having to wait a while for part two of the video, 10 minute videos are a good way to eliminate those part twos and threes.
According to Tiktok, "We're always thinking about new ways to bring value to our community and enrich the TikTok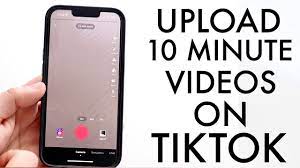 experience. Last year, we introduced longer videos, giving our community more time to create and be entertained on TikTok. Today, we're excited to start rolling out the ability to upload videos that are up to 10 minutes, which we hope would unleash even more creative possibilities for our creators around the world."
Some people think the adjustment to 10 minute Tiktok videos is a bad idea.
Makeuseof.com says, "So, a 10-minute video might be too long for some viewers. Second, longer videos could make it harder for TikTok to maintain its identity. The app is known for its quick, bite-sized videos. If it starts uploading longer videos, people might start associating TikTok with long-form videos instead of short, snappy videos."
The company has been pushing longer content for a while now, with industry watchers saying the change is to allow it to better compete with YouTube, which raked in more than $28 billion in ad revenue last year. YouTube and Tiktok have started competing with each other. YouTube posting shorter videos (YouTube Shorts) while Tiktok is allowing creators to start posting 10 minute Tiktok videos.
While creators and users start gaining access to 10 minute video options, we will see the world of Tiktok start to change slowly but drastically.