Holy Family's Athlete of the Week Makenna Bertsch
Holy Family is full of talented athletes in every sport, one standout athlete is Makenna Bertsch. Bertsch has played varsity basketball and volleyball for all four years and has made incredible strides in both. This year she is leading the girls basketball team as one of the captains and is looking to help take them to the Final Four. Bertsch is currently leading her team in points per game and rebounds per game and leading the league in rebounds and double doubles.
Q: What are Some of Your Notable Stats From This Season?
A: I'm currently averaging 11.5 points, 9.9 rebounds, and 2.5 steals per game. I also just recently set a school record of 19 rebounds in a game and I had my career high of 21 points in a game.
Q: How did you get Into Basketball?
A: I got into basketball because of my dad who used to play and ever since I have loved the game.
Q: What Have you Learned About Yourself While Playing Basketball?
A: I have learned that I strive for competition and put 110% of effort into what I do.
Q: What are Your Goals Moving Forward?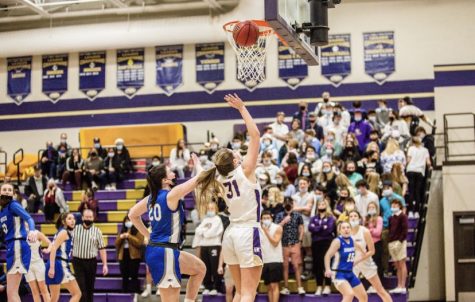 A: I plan on going to The University of Tampa or CSU next year to study business.
Q: How long have you been playing basketball?
A: I have played basketball since I was 6 years old.
Q: What is your favorite memory from this season?

A: My favorite memory from this season are the car rides to games with the team and getting closer with everyone.