West Point Earns a Tiger
Senior Jaden Reenan talks about his acceptance into West Point
While many of our seniors head off to the next stage of their lives onto either a private or public university. One senior Jaden Reenan took it one step further and is going to the United States Military Academy at West Point, one of the best schools in the United Sates.
It's mission, "to educate, train, and inspire, the Corps of Cadets so that each graduate is a commissioned leader of character committed to the values of Duty, Honor, Country and prepared for a career of professional excellence and service to the Nation as an officer in the United Sates Army."
When there is thousands upon thousands of universities to choose and paths to take in this next chapter of life Jaden states that, "I chose West Point because I believe the unique and challenging experiences and opportunities will allow me to achieve my long term goals."
Then when talking about each one of the Military academies he reasoned that, "the Navy has ships, the Air Force has planes, and the Army has people. I aspire to be a leader, and West Point will prepare me to meet the demands of leadership."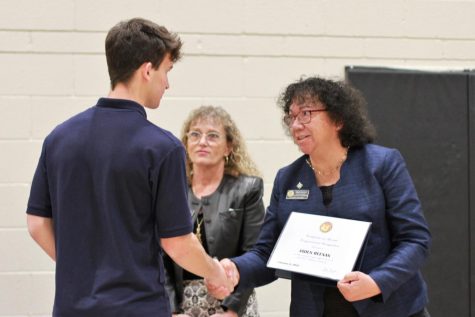 He then went on to recall the moment he realized he wanted to join a military academy, "In 2015, my family and I visited the Air Force Academy to watch the Army vs. Air Force football game. After walking around the campus and admiring the monuments venerating the achievements of past service members, I felt a sense of purpose. On that day I made a promise to myself to attend a service academy and join the military, inspired by those who came before me." 
Within people's time at Holy Family everyone walks away with something whether they realize it or not so what did Jaden walk away with, what's something he will carry into the next chapter? He says it was "the importance of a strong community."
When asked about how he knew that's the thing he will be taking with him he states, "The school's reaction to my acceptance to West Point could not be a better example of this. The energy in the gym was electric. Watching everyone stand up, yell, and applaud gave me an unimaginable sense of appreciation and pride for Holy Family High School. I felt I not only belonged to the community, but had the support of the entire school behind me. I could not have done this without the endless support of my teachers, counselors, friends, and the tight-knit bonds that Holy Family creates. I felt like I asked my teachers and counselors for hundreds of letters of recommendation, and was always met with encouragement, enthusiasm, and helpfulness, proving how this community exists to lift each other up."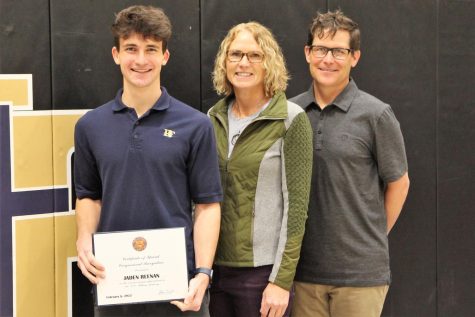 Near the end we got into the future of his life coming up. When asking what he is most excited about, he exclaimed, "I am looking forward to all the experiences and opportunities available through the academy. I know it will be difficult, but everything from the six-week basic training over summer to the intense academic schedule are designed to make me a more competent leader."
At the academy he hopes to major in "Law/Legal studies and Defense/Strategy," He went further on to say that, "after I graduate and commission as a second-lieutenant in the Army, I hope to become a military intelligence officer."
When asked about if he will keep extending his enlistment after his initial contract is up he says he, "I don't really know. The minimum service requirement is twelve years: four at West Point, five active duty, and three in the reserves. It's hard to imagine life six months from now let alone 10 years down the road."
At the end we had a friendly banter about college football, so his message to all is "Go Army, Beat Navy!"
So Jaden we wish you the best of luck in the next chapter of your life. You truly are leader here at the school and are destined to become an even better one with time and in your future. We commend you for you bravery, grit, and character. You are a Holy Family Tiger in its truest form. Always remember your family, friends and community support you, have your back, and always will be with you!