Some people have had enough of this quarantine
I give quarantine a solid 0/10, a single star, a great big thumbs down
I give quarantine a solid 0/10, a single star, a great big thumbs down, I would not recommend.
This has not been fun.
I've run out of games to play on my phone, my family is driving me crazy, and I miss my friends a lot. A ton of people have been saying things like, "keep your head up", "we'll get through this", and the one that makes me want to punch someone in the face, "We're all in this together".
The people saying all those things are right. We will get through this and we are in it together, but it hasn't felt like it the whole way.
Most of the quarantine I've felt pretty isolated and sad. I haven't really been able to see anyone or go anywhere. I've spent a lot of time hiding away in my bedroom, just waiting for the stay at home order to be lifted.
Until very recently everyone has been stuck at home, which at first was a good thing. We got some much needed rest, and we got to spend time with our families, but as time went on, we began to lose more and more things. We lost our prom, we lost our sports seasons, we lost our vacation plans, our extended family gatherings over Easter, and finally the rest of our spring semester. They changed the day we would be able to see our friends again and again, how are we supposed to deal with that?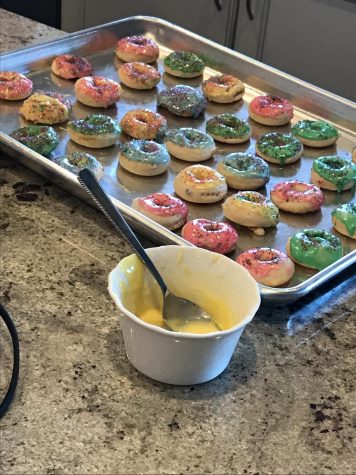 We are all grieving a little bit, it was painful to lose those things all at once. But let's look on the bright side for a minute. Over this time we've grown stronger. Yeah I know that sounds like just another thing people have been saying to try to make us feel better, but it's true.
Overall, we have learned a lot from this.
We've learned that even when we can't see each other, we can still lean on our friends for support and love.
We've learned that it is possible to stay at home with our siblings and parents even though they drive us crazy sometimes.
Finally, we've learned that even though we aren't in class, our teachers really do love and care about each and every one of us.
Now, I'm not saying that we've learned and grown to excuse that fact that quarantine has been an unforeseen nightmare that messed a lot of things up, this has not been fun! But, it does seem to be getting better.
As the conclusion of this article I have a little challenge for you:
— Take care of yourself and each other
— Take a bubble bath
— Read a book
— Bake some cookies
— Lay in the sun
— Go for a walk
— Play with your pets
— Draw with some sidewalk chalk on your driveway
— Call a friend and talk about your lives
— Write a letter and send it to someone
— Email a teacher with gratitude (shout out to Mrs.Cillessen and Mr. Willden for that idea)
— Play a board game with your family
And just remember that even though we can't say it in person yet, you are loved and cared for by so many people.