Sophomore Studs Ending on the Podium
After a long, hard and definitely sweaty season, the wrestling team's 2021-2022 season finally came to an end. With making a historical run at the state tournament by bringing six individuals to the CHSAA state tournament in downtown Denver, the wrestling team shocked the rest of the 3A schools, and even some larger schools in attendance.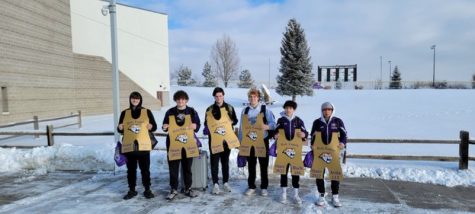 The six state qualifiers sent with the Tigers included sophomore Brayden Back 106lbs, sophomore Lorenzo Avila 113lbs, senior Alex Austin 170lbs, sophomore Cash Hauptman 182lbs, freshman Camden Austin 195lbs and sophomore Abram Moore 220lbs.
The tournament started last Thursday, February 17th, to last Saturday, February 19th. The first day was just a singular opening round where the first match is wrestled and it qualifies you for either the consolation side of the bracket or the championship side of the bracket. Each wrestler was in a double elimination scare throughout the entire tournament, once you lose two you are out of the tournament. Since everyone qualified for the second day, we got two full days of matches. After the first two rounds of the state tournament only two wrestlers were out, two were on the consolations side and two were on the championship side headed into the semifinals.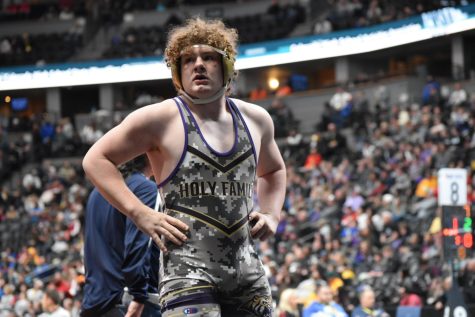 After three rounds of consolation, we had two wrestlers left. Brayden Bach and Abram Moore. Friday night was the state semifinals, with some tough competition, both wrestlers were sent into the consolation round and would either be wrestling for 5th or for 3rd dependent upon the round the next morning. Saturday morning both boys pushed their way into the 3rd place matches.
What good news is for one, does not mean good news for both. After the 3rd place matches Holy Family had two state placers within Brayden Bach and Abram Moore. Bach took 3rd over La Junta's Elijah Montalvan and Abram Moore lost to Ryder True of Eaton. Both were huge successes for the boys and the team.
This was Brayden's second state tournament that he placed in, and Abram's first. With such a young and dominating class, the future of the Holy Family wrestling team looks very bright under the wings of a multi-time state placer, and an extremely dominative heavy guy that barely missed state his first time.
Both boys ended with records that smashed all expectations for both of them. Brayden Bach's record ended as 47-12 and Abram Moore's 37-8. Both boys blew the spectators away throughout the entire Ball Arena, hopefully it will continue to be a familiar place for the Tiger team.