COVID-19 is taking it's toll on sports too
A talk with Holy Family's Class of 2021
It was on March 13, 2020 that a U.S. national emergency was issued over the coronavirus outbreak.  Two days prior to this, the sports world was slowly starting to see the effects of the virus creep its way into their lives.  It began with certain restrictions.  For example, many sporting events were closed to all fans but were still to be played.
Sound familiar? The Holy Family community was extremely distraught when CHSAA (Colorado High School Athletic Association) announced that only four attendees per player were allowed to come watch the girls basketball team compete in their Final Four game at the Denver Coliseum on March 12, 2020.  Our Lady Tigers, resilient as ever, proved that they didn't need fans in the crowd to get the job done.  On the road to victory, the girls were looking forward to Saturday, March 14, 2020 where they would make an appearance in the State Championship game.  Until of course… it was canceled.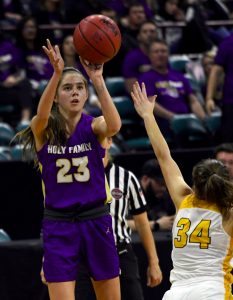 Junior basketball player, Alyssa Wells, expresses her thoughts and feelings as her and her teammates began to realize just how serious this virus was.
"At first, I was absolutely crushed that we wouldn't be able to play in the State Finals against Mullen who beat us in the Final Four last year.  It was going to be our chance to redeem ourselves and get revenge for last year.  However, after I've had some time to cool down, I'm just thrilled that we were able to make it that far.  Minus our two amazing seniors, Noelle and Makayla, we'll have a similar team next year, and making it as far as we did this year goes to show that we can do it again.  We can make it to the state championship.  This minor setback is just more motivation for us going forward, because although we did win the state finals this year (Co-State champions with Mullen) it's just not the same.  We want to play in that game, to give it our all, and be the only team holding the trophy at the end of the day.  Finally, I'm just glad we got the opportunity to play in the Final Four, as on the boys side, they unfortunately were not able to play in the Final Four game or the State Championship.  Although it sucks we got our season cut short right before the biggest game of the year, we have other, more pressing matters to focus on with COVID-19.  We are living out history, so we just have to do our part to stay safe and to ensure that we can go back to reality as soon as possible."
Spring sport athletes were drastically affected, as well, when on April 21, 2020 CHSAA announced that the spring sports season was canceled.
"Especially after having gone through almost four months of preseason, not having a season this spring has been really disappointing," said junior girls soccer player Kacy Clements who plans to play soccer for Carroll College starting in the fall of 2021.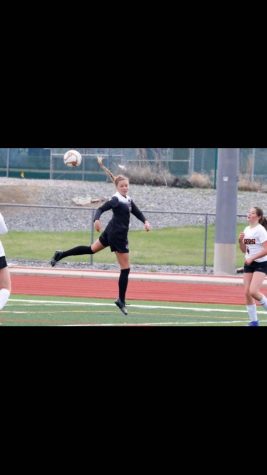 "I'm really missing the team as a whole and all the fun memories we usually get a chance to make during the season.  It's difficult to get a Team Snap notification that I was supposed to be playing a game today and instead I haven't even practiced with my team in almost two months."
The junior season is one of the most crucial times for college recruitment.  Junior baseball player Blake Hammond said that not having this spring season, "Definitely makes everything a little more difficult because of no spring season and complicated summer plans, but it has not really changed anything for me. It has actually given me the opportunity to talk to more schools over the phone because coaches have extra time to recruit now."
As the virus continues to progress, many have become apprehensive about what the start of the 2020-2021 school year could entail.  Juniors, soon to be seniors fear that they may be stripped of their senior seasons.
Junior softball player Cassidy Chvatal talks about how she's looking forward to more than just the wins that her senior season will bring.
"It is about leadership as a senior and your 'lasts'. For the past 3 years, I have looked up to the seniors of each class and was always drawn to the way they led the team as a whole. Just like all of the 2020 seniors that are spring athletes, the possibility of something this traumatic happening in the world never crossed anyone's mind. Everyone in the classes ahead of me has always told me that the memories made senior year some of the best throughout high school and the thought of not being able to experience that is devastating," said Chvatal who will be headed to the Colorado School of Mines to play softball starting in the fall of 2021.
On a more positive note, assuming that restrictions are lifted and Holy Family will have a normal start to the 2020-2021 school year, athletes will be eager to get back out there and compete.
"Assuming that we have our season in the fall, I am more motivated than ever to make it the best season I've had yet. I think we have such a great group of guys with a lot of potential, and I hope that we get to build off of our great season last year and continue to improve as a family," said junior soccer player Dylan McIntosh.