Swim and Dive State Preview
This past weekend the Holy Family Swim and Dive team took 3rd place at the NCAC Championships. A weekend filled with speedy times and stellar dives, they truly held their own after being the only 3A team competing against all 4A swim teams. The next stop is state, arguably the most exciting part of the season.
Sophomore Cate Chapman has had a strong season and really rocked the pool at leagues. Last weekend she placed 1st in 100 butterfly with an impressive 59.20 seconds. She also placed 2nd in 100 backstroke with a 58.80 swim. Going into state, she is ranked second for the 100 backstroke.
Diver Mary Kate Cavanaugh has been the one to follow since her freshmen year. The sophomore had an exciting win last weekend at leagues. Ranked second for state, Mary Kate can potentially come home on Saturday as a State Champion.
Another accomplishment at leagues? Every single relay dropped time. This not only helped the team get points, but is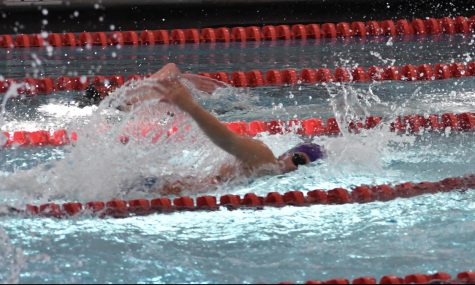 also encouraging as state quickly approaches. The medley relay of Olivia Zuhoski, Cate Chapman, Ivy Wood, and Abby Philipsen dropped 4 seconds and is now ranked 3rd going into state this weekend.
3A State begins at 10:00a.m. at VMAC on Friday the 11th. Diving starts on the morning of the 12th, and finals for both swim and dive will begin at 4pm. Good luck to all of the swimmers and divers competing this weekend!