A Comeback to Remember
Yes, here I am again, writing about the cinderella story that is the Cincinnati Bengals.
After last week's thriller in the AFC Divisional round, everyone and their mother knew the Bengals were likely to be eliminated in the Conference Championship game. For the most part, the game looked to be decided by half, and all believed the Chiefs were going to their 3rd straight Super Bowl.
All believed that except for the Bengals…
The Bengals found themselves down by 18 in the first half, and by halftime, they were down by ten and with the Chiefs set to receive the 2nd half kickoff, the game could've easily gotten out of hand. But the Bengals found a way. Punching in a touchdown late in the 2nd quarter, and then holding Patrick Mahomes and the Chiefs at the start of the 3rd, left the 4th to be determined in dramatic fashion.
The Chiefs marched down the field and eventually found themselves one yard away from another touchdown. However, the Bengals dug deep, and found a way to get a stop after swallowing Tyreek Hill up for a loss on a 4th and goal. The Bengals were able to put together a three point drive late in the 3rd. Then immediately got the ball back after an Eli Apple interception. Within four plays the Bengals tied the Chiefs with a Ja'Marr Chase touchdown and a Trent Taylor two-point conversion.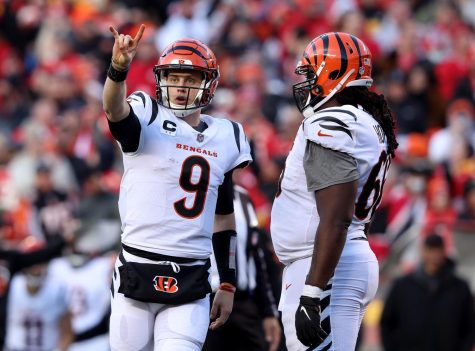 It all came down to the fourth, where both teams scratched field goals, Harrison Butker's sailing through the uprights as time expired, putting the Chiefs in yet another overtime situation.
All still believed that the Chiefs would find a way, especially after winning the stupid OT coin toss, it looked like the Chiefs would claim yet another victim to the unfair OT rules of the NFL.
But yet again, the Bengals found a way and intercepted Mahomes 13 seconds into OT, how ironic…
The Bengals got the ball at midfield and marched down the field getting into plus territory. With 9:22 left, the Bengals marched rookie Evan McPherson out for the kick.
McPherson drilled it, and sent the No.2 Chiefs home early.
"It's a special team that's capable of doing special things," said coach Zac Taylor, who hasn't seen the Bengals play in a big game since he was a kid.
The Bengals will face off against the Rams, Sunday, February 13th against the LA Rams.