Big Hair, Big Heart!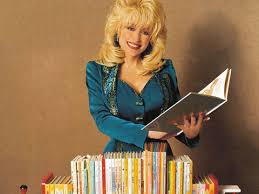 On January 19, country music star Dolly Parton celebrated her 76th birthday. And oh, has she achieved a lot so far! Whether you are a country music fan or not, you've likely heard "9 to 5", "Jolene" and many other of Dolly's hits. While her music is arguably the best of its kind, there is so much more to Dolly Parton than just her amazing songs. Now 76 years young, she is continuing to make a profound impact on her community and the country as a whole.
The Dollywood Foundation was established nearly 34 years ago and is still going strong. Dolly Parton created this organization to encourage kids to continue their education by providing scholarships. This has given many kids the chance to go college and redefine their future.
Dolly Parton came from humble beginnings, and was not born into a family of wealth. Even though her fame also brought in fortune, she understands the importance of giving back. Her main reason for developing her Dollywood Theme Park in Pigeon Forge, Tennessee was to create jobs for it's impoverish community.  Since it's opening in 1986, poverty rates in the Sevier County area have dropped dramatically.  Today it is the largest employer in the region and Forbes magazine recently named Dollywood one of the best employers in America.
Dolly's ideas for giving others the opportunities to broaden their horizons did not stop there. In 1995, Dolly established the Imagination Library; a free book program that was originally designed to benefit the young children in her home of East Tennessee. The idea was a success, and The Imagination Library has not only spread all over the U.S., but to the U.K, Canada, Australia and Ireland. Children all over the world are getting a free opportunity to learn to read and become interested in literature due to Dolly's generosity.
Just last year, Dolly used her resources and her platform to endorse COVID-19 vaccinations. She donated $1 million to Vanderbilt University Medical Center which helped develop the Moderna vaccine and funded the earlier stages of its distribution in the U.S.  After announcing that she received her vaccine on Instagram, Dolly continued to stress the importance of vaccination, and encourages people to step up and take this crucial step to protecting themselves and others. "I just want to say to all you cowards out there: Don't be such a chicken squat" says Dolly, "go out there and get your shot."
Dolly Parton is more than just an icon, she's a humanitarian whom we can all learn a lot from. One piece of her advice? "Find who you are and do it on purpose," Dolly said in a 2015 tweet. With her generosity and thoughtful ideas, Dolly has given so many people the opportunity to achieve and succeed in everything they were born to do.