Kristi's Latin Lights
Everyone knows that Latin is full of lots of learning and fun projects. Some of these projects include mosaics, shields, paintings, photography, jewelry making, and so much more.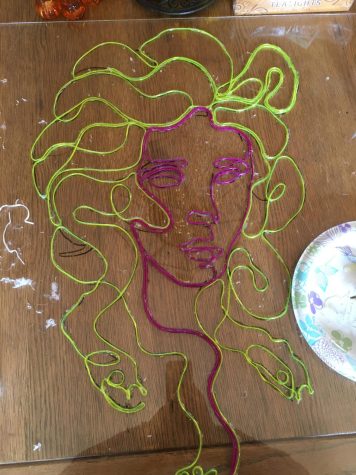 Junior Kristi Torczynski has been lighting up her Latin project for roughly two years now. She has been making neon signs based on Greek gods.
"Many years ago my brother, Brandon, was known for making the life size Trojan horse for Dr. Gummerlock's class, and I knew I had to outdo him. I have never been good at painting or drawing so those options were a no go."

So, while trying to outdo her brother, how did she get this idea? "I was looking on Pinterest and came across last name neon wedding signs and line art. The bright colored signs drew me in so maybe it's that, or divine inspiration." After she found her idea, she got to work right away and has fully completed two signs, one of Apollo and one of Medusa. 
Kristi has one hanging in room and is planning on making and hanging three more around it. Although they can take a while to make, she says they are so worth it.
Her process takes some time but she says anyone can do it. "I ordered a flexible LED light string and made an educated guess on how much I need. This is really tricky because you can not add on to the string nor can you cut off the excess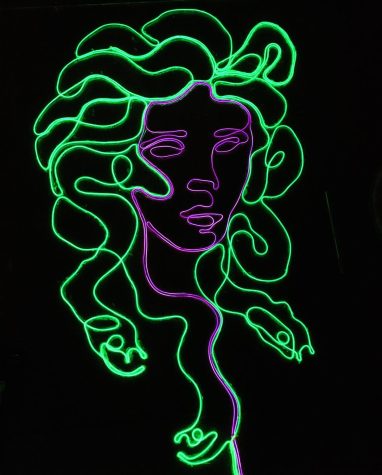 without ruining everything. While your LED lights are shipping, find or sketch and image to your desire. Once you have found your desired image, freehand with an expo marker. When your lights come in, dedicate 10+ hours gluing (also burning your fingers on hot glue) and bending the lights in the correct way to form your neon sign." 
This impressive Latin project is easy enough to make and looks so cool! This is only one of the spectacular and unique projects our Latin students are working on!