Diving into the Season with Mary Kate Cavanaugh
Mary Kate Cavanaugh started and ended her freshman season strong.
"I ended in second place in state and my first meet I ended up unofficially breaking the state record," she said.
She hopes to carry on with this more than impressive record this year. "I really want to do well at state, hopefully first place this year. I just want to compete to my best ability and just make sure I focus on the smaller details."
Doing what she has is such an incredible accomplishment, and especially at such a young age, she makes it seem easy. He dedication and hard work are the reason she has been so successful.
"My training schedule is quite a lot. I generally do one to two morning practices for high school which is from 5 a.m. to 6 a.m.," she said. "Then Monday through Friday I have generally around two and a half hours for club diving. Then after school on Tuesdays and Thursdays I do high school strength and sometimes on Saturdays I'll do extra training. I also go to Colorado Springs every Friday to train power."
She is the definition of hard work pays off.
But it's not all work, Mary Kate loves what she does and she loves the people that she has been able to meet because of diving.
"I love getting to train with people who are doing the same things as I am. I love getting to work through all the fears and difficulties and challenges with people who are doing the same things I am. Because diving is such a mental sport, having people who know what you're going through and can help you get past that and to do your best is really helpful."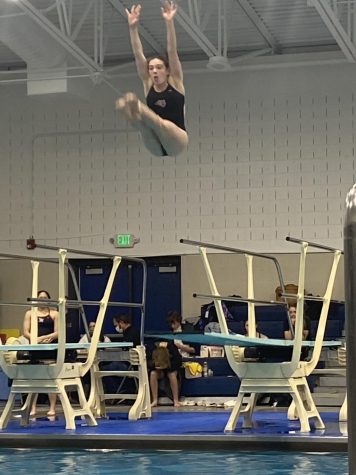 Cavanaugh hopes to take her skills beyond high school and club diving where she not only hopes to compete in college, but she is working towards the Olympic Trials.
She plans to dive in the Olympic Trials in 2024 or 2028.  Along with her plans for the Olympics, she has big aspirations for college.
"I want to dive somewhere with good academics and good diving. I would really like to dive at Indiana University because they have a really strong diving program, but I'd also really like to dive at Notre Dame because they have good athletics and good academics, but I don't really know yet."
Mary Kate Cavanaugh is an impressive athlete; she is smart, humble, dedicated, and so talented. We hope to be cheering you on in college, at the Olympics, and for your next three seasons here at Holy Family!