Mask Up: A Return to the Inconvenience
Tigers will be wearing masks for 17 school days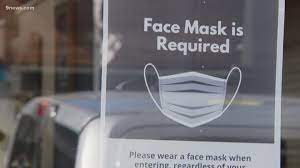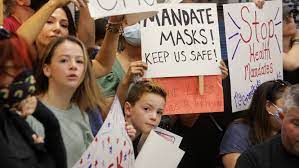 Masks… again?
Yep, you heard me right… Its officially been a week since Holy Family administration reestablished (more so, the Broomfield Health Department) the mask mandate within our school. What with the rising Covid cases, a borderline outbreak amongst HF seniors, the winter formal being pushed back, and increasing masks mandates across Colorado, it is no surprise that we, too, are being required to start wearing masks once again.  
I think we can all agree that nobody likes masks. They are uncomfortable, itchy, hot, and above all, they prevent us from expressing our emotions.
Believe me, I know the struggles of wearing a mask, nothing is more frustrating than not being able to smile at your friend across the hall, or not being able to successfully whisper with your desk mate. It's a serious bother and a total inconvenience. 
That being said, a mandate is a mandate, and, as much as we all hate wearing masks, it is a necessary step in helping our school remain in-person and healthy. Regardless of your beliefs about Covid, real or not, I think we can all agree that being sick is not fun. As someone who has had Covid not once but twice, I can tell you all that I do not want it again. From weakness to sore throat, to splitting headache, I'd much rather wear a mask than contract the virus for the third time. If staying safe and healthy means I have to wear a mask for a few more weeks, I'm okay with that. 
What's more, it is nearly impossible to catch up after being quarantined or contracting Covid, so hard, that I'd much rather wear a mask than deal with the makeup work. 
Masks are certainly inconvenient, but they are for our safety and for the health of ourselves and those around us. 
In the last two years, Holy Family has been known for its perseverance and determination during the times of Covid. From hardly shutting down, to few mask rules, we have been blessed with the opportunity to function in a relatively normal style, regardless of the crazy world around us.
I hate masks, we all hate masks, but masks are critical in helping us to retain a semi-normal school environment as well as remaining healthy and safe in our everyday lives.