Let's Go Brayden!
Over the past year and a half there has been a certain person roaming the hallways that has gone somewhat unnoticed. In the class of 2024 there are multiple amazing athletes, singers, artists and actors, but on the wrestling mat there is a star-studded standout.
Brayden Bach is the current 113/106 pounder on the varsity wrestling team, but that is not his only talent. Brayden is also a varsity football letter recipient, even if you do not believe it, what Brayden might lack in height he makes up for in speed, attitude and effort.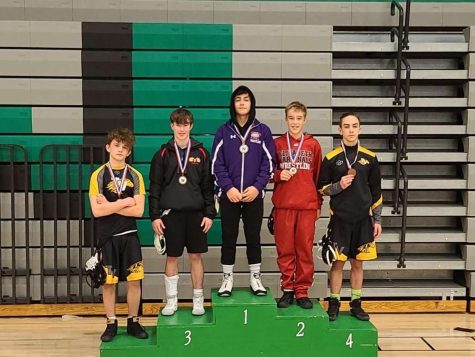 In the 2020-2021 season, despite dealing with Covid and all of the different difficulties that it put into the face of all sports, wrestling had its own unique ones due to the heavy personal contact during the sport. Challenges like wrestling with masks on, a smaller state and regional bracket, and dealing with his own case of Covid, Bach still over came and exceeded all expectations that a freshman wrestler should.
Brayden Bach placed at the most important tournament last season, the CHSAA state championships at 6th. Due to there being no other tournaments throughout the tough 2o20 schedule Bach had to deal with winning duals and triangular matches.  After having such a high reputation to uphold it is no wonder that Bach had a preseason ranking of 4th in 3A at 113lbs for the 2021 season. "Freshman  year was definitely a tough year, it opened my eyes to high school wrestling. It was definetely a gaining year, I learned tones and overall changed as a wrestler. Honestly for freshman year I came into the year placing at regionals and having a winning record, I quickly realized that it was not going to be an easy task but was still doable as I machured as a wrestler."
Not everyone can just wake up and be a freshman state placer, for Brayden, the trip to the top started a long time ago. Brayden began wrestling in the Broomfield Eagles Jr. Club where he began learning his moves and  skills to build his esteemed repertoire. By building skills at such a young age, Brayden became more expreienced and moved clubs to further his knowledge of the sport and finally lead him to becoming a star for Holy Family.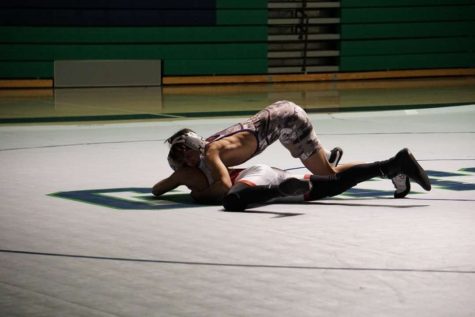 Brayden not only desires and requires high expectations for himself but also his teammates, "I see this program in the future being a top 10 team in 3A, we have great potential with all the young talent we have in the room, and all we can do now is grow from where we're at and I'm excited to see what happens." With the potential this team has in the future years, especially under the leadership of Bach (the only sophomore captain) the team has a more than qualified example to follow.  What most likely makes Brayden the most unique is not how hard he works, or how talented he is, but the reason and love he has for wrestling.
"Although this sport is one of the hardest and tiring out there I still find this sport to be the most rewarding and get to show the work that you put in all on the mat every single day. I love how it's just you and no one else to blame for losses, just yourself, which will help with not only wrestling but for life in general."
With two and a half seasons left of high school and more dubs to catch sights for Mr. Bach are set even higher. After high school Brayden intends on wrestling in college and furthering his academic career as well. Before thinking too far ahead, Brayden Bach still has more than enough damage to do at hopefully three more state tournaments, as well as everywhere nationals he attends in the off season, and other tournaments as well.