The Power of Hope
Mrs. Greany and her reflection on losing her home during the Marshall fires.
Hope: a four-letter word that encapsulates so much meaning. It is the bright shining star in the sky that twinkles when the night is dark, and the feeling of warmth when it seems that coldness is all around you. As storms rage on, as one prays and seeks answers for their misery, it is hope that lets us dream of a brighter day.
Yet, when disasters happen such as the Marshall wildfire that claimed over a thousand homes, one can begin to wonder: what is the purpose of hoping? When we see members of our community and state grieving such a terrible loss, we begin to question and doubt.
Mrs. Greany and her family, members of our Holy Family community, lost their home during that unprecedented New Years' Eve. Mrs. Greany recounted the time when she first heard the news about the fires, her and her family's life being turned upside down in the blink of an eye.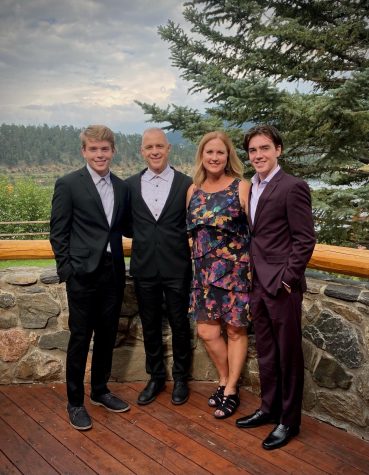 "We never received a phone call from the city to evacuate, so when my friend called me to tell me that we should evacuate because the smoke was so bad and that the fire was getting close to our neighborhood, we were in disbelief. I had just pulled out some chocolate chip cookies and was enjoying a nice day off. My husband went outside to investigate, and the entire sky was filled with smoke. It was so dark out," Mrs. Greany stated.
"My husband went up to the top of our neighborhood in the cul-de-sac and one of the neighbors' fences was on fire. He attempted to put it out with a garden hose, but the smoke was getting worse, so he ran home and told us that we needed to evacuate. We had only about five minutes and grabbed two of his work computers, our boys' computers, our fire-proof safe with our important documents, the clothes that we were wearing and our dog and cat, Marley and Bella. We almost didn't get Bella out, as we were trying to put her in a box, and she kept escaping and trying to run.  It haunts me to think that we almost had to leave her. Unfortunately, some of our neighbors were not so lucky with their cats. We were getting into our cars and I yelled out to my husband to check on our elderly neighbor.  She didn't want to leave and he told her that she had five minutes to gather a few things. He retrieved her dog while she collected a few things and she was able to leave in her car. I have spoken to her since and she said that my husband saved her life. She was in the basement and wouldn't have known about the imminent danger with the quick moving fire outside, and she is on oxygen, so that could have been really dangerous for her life," Mrs. Greany remarked.
While evacuation itself is such a frightening ordeal, even more so is waiting to see what will happen next; whether if your house, your belongings, or all your items will be gone. Because of the snow and safety concerns, families had to wait a few days before seeing what was left of their possessions, as did the Greany Family.
"The feeling of unbelief, sadness, heartbreak and so many emotions still haunt us," Mrs. Greany stated. "To see your entire neighborhood destroyed and burned to almost unrecognizable remnants is very difficult. We have lived in our home for over twenty-two years and had such a great community with our neighbors. We had just finished a complete remodel of our home in February, so are just grateful that we had one Christmas in it and can pull from those very happy memories. It truly felt evil in our neighborhood, during and after the fire. My Mom said that it was like the 'Breath of Satan' that came so quickly and violently decimated a thousand homes."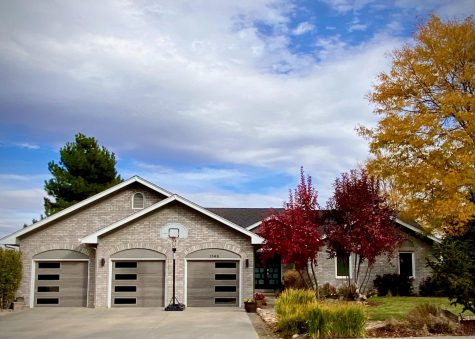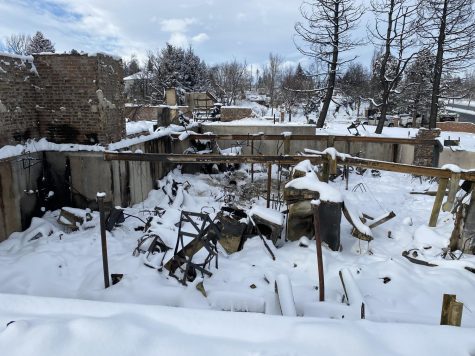 For Mrs. Greany, faith and trust in Jesus has been the peace beyond the storm, the hope among the ashes. While their earthly home may have been destroyed, the promise of the eternal kingdom is what gives her peace.
"God has shown up every day since this happened. We have seen little blessings through the spiritual things that we have recovered. Some of the most meaningful things have been our Blessed Virgin Mary Statue still standing after the fire at where our front porch was. This is truly a miracle since the heat from the fire probably exceeded 1,500 degrees and she would have been hit with all of the bricks and roof falling around her and the front door melting next to her. We also recovered the baptismal crosses that were given to our boys, Lance and Cole."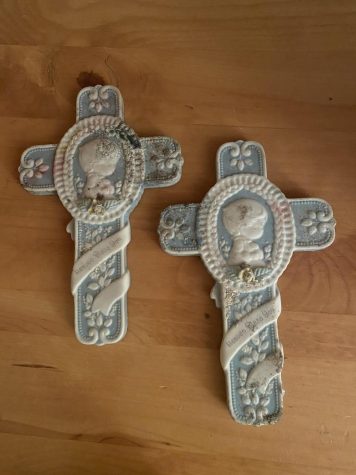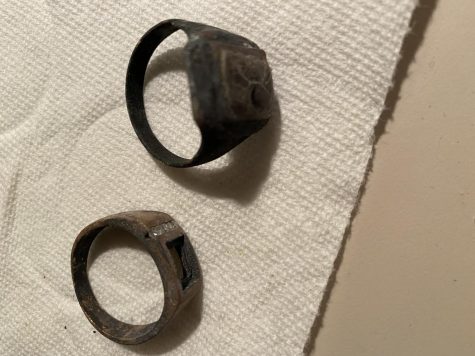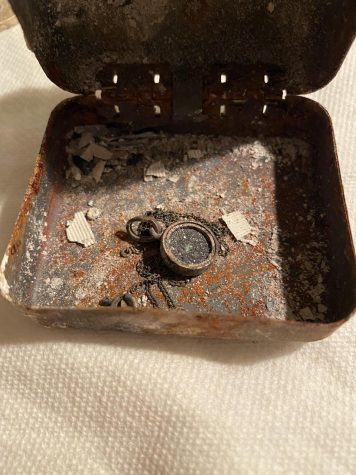 "My husband also found the Widow's Mite pendant that he gave me when I was confirmed in the Catholic Church about 10 years ago. This was one of my most meaningful pieces of jewelry, especially now that we don't have any material possessions," Mrs. Greany remarked.
"Another powerful recovery was the sculpture of our family's hands.  When my husband was digging through the ashes looking for this sculpture, he stopped and prayed. He said that 'our family means everything to us; this sculpture signifies the strength of our family and would mean so much to us to find even a remnant of it.'"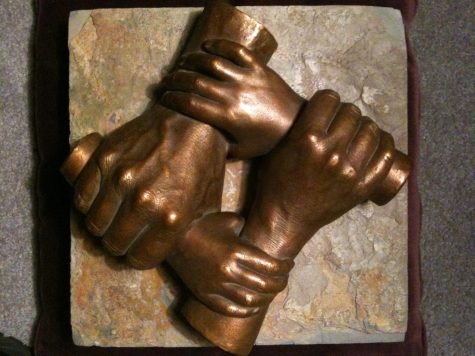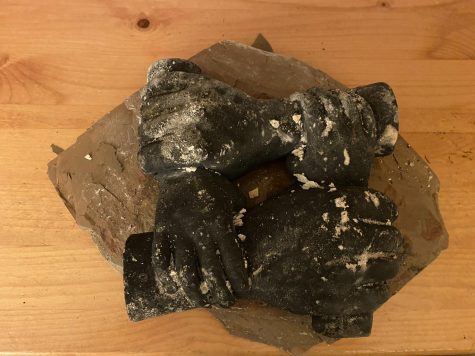 "The boys were each given a ring of their grandfather's when he passed away. Our son, Cole, found both rings which were in separate bedrooms! We are not alone in this, praise God!"
Currently, Mrs. Greany and her husband are living in a small apartment in Boulder that was offered by a complete stranger, who furnished it with the generosity of other members of the Boulder community. Despite the travesty of what happened in the fires, it is the beauty and charity of our community that shows us there is a greater future ahead.
"The students and staff have been incredibly supportive," Mrs. Greany said. "What a blessing it is to work at Holy Family! Prayers are still what we need most for the Holy Protection of God. Prayers also for those who lost their homes who are not believers. May they discover the truth and see the light of Christ working through others. We are so appreciative of the meals prepared and the gift cards to stores and restaurants."
Hope is not an easy thing to have; in fact, hoping can perhaps be one of the most difficult things to do in the midst of pain and loss. But as witnessed by the Mrs. Greany's beautiful and moving story, hope is built by our community, our family, our kindness, and our faith. Unlike the material possessions of this world, hope cannot be dismantled, but is with us if we first believe in it.