Holy Family Swimming and Diving Preview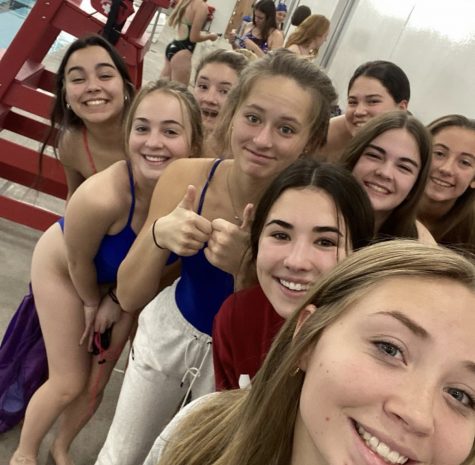 After another great season last year, the Holy Family swimmers and divers are off to a new year of early practices and victory. With newly elected captains, Jo Romano, Jadyn Abeyta, Ava Kuzak, and Emma Schneeberger, the girls are starting to form their new team.
Senior Jadyn Abeyta says, "I think the season is headed in a bright direction. All of us are working super hard. It's obvious that our work is paying because we have had a lot of time drops and state cuts. It looks like we will be undefeated this season."
The past few years, the Tigers have seen great victories by winning leagues their first year and winning many competitions the next season. The team is looking to keep that streak up as they face new 4A teams. 
The swim and dive team started this year off with a win against 4A Centaurus. Senior Riley Plock says that "the team has a great chance of winning because of the great leaders and the number of swimmers we have this year."
The swim and dive team is the largest size its been with a bunch of new freshmen and a great group of 10 seniors.  The dive team has grown tremendously in both numbers but more importantly, talent. The girls wake up and work hard every day at 4:30 a.m. to perfect their flips and dives.