Love Hard Movie Review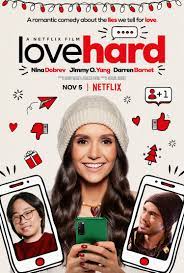 Everyone loves a good Christmas movie. After all, it's the perfect way to spend time with family, get into the holiday spirit, and relax after working so hard during finals week. You can never go wrong with a classic, but this year Netflix added a handful of movies that are definitely worth checking out. Out of all the new additions, arguably the most original and entertaining is Love Hard, directed by Hernán Jiménez.
Love Hard was released relatively recently on November 5th, 2021 and stars Jimmy O. Yang, Harry Shum Jr., Nina Dobrev, and Darren Barnet. A romantic comedy revolving around a cat fishing incident, viewers will likely find Love Hard bizarre on so many levels. This movie is entertaining at the very least, and is sure to make even your grumpiest relative laugh. Even though there are heartwarming elements, the majority of the movie is unconventional and fun, and not to be taken too seriously. The story follows protagonist Natalie (Nina Dobrev), who flies across the country to spend Christmas with a guy she met on a dating app. When Natalie arrives in New York, she welcomed by a surprise, and quickly realizes that her holiday will not go as planned.
If you're looking for a lighthearted rom-com that is different from each and every Hallmark movie out there, Love Hard  just might become your new favorite movie. It can help just about anyone get into the Christmas spirit, and is a fantastic 1 hour and 45 minutes worth of entertainment!