A Hot Start To The Cold Season
Going into the first game of the season facing the No. 3 Class 3A team in the state and having a team of almost completely new starters, no one knew quite how the first game for the Tigers would go. Coach Pete Villecco's 2021 team showed fast pace and great defense after beating Lutheran 59-39 its first night back on the court.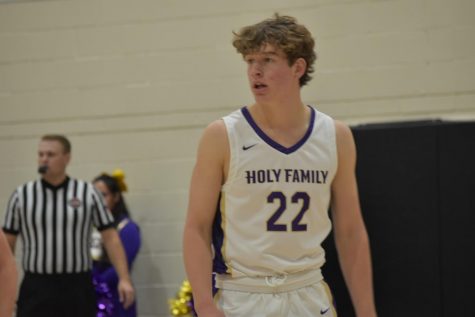 With only one returning starter, senior Jackson Ward, Coach Villecco has a quite young team resting in his hands this year. Out of the starting five, three are juniors, Eric Quintana, Grayden Harkness, and Rocco Bridges. There is also the lone sophomore Gabe Tafoya. Despite lacking some experience on the varsity court, it was almost invisible in the game on opening night in the home gym.
Scoring 7 of the first 9 points of the game in four minutes, Ward is ready to roll for his senior campaign. Despite getting a little excited with the fouls throughout the first game, Ward said: "We are excited to get started, this team has a lot speed and talent, we are looking to do some big things this year. And I think it helps that not everyone knows how good we are."
Ward ended the night with 13 points in just 10 and a half minutes of play, and Tafoya ended with a game high 17.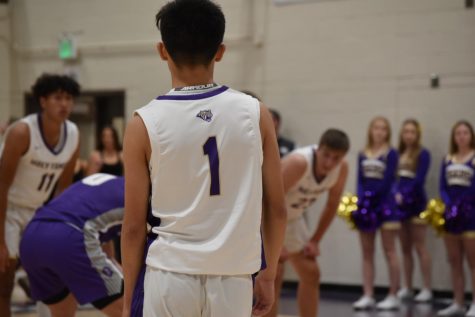 Tensions arose when the Holy Family student section saw a familiar foe walk into the gym. The Broomfield something with wings (can't even remember their mascot).
As they sat in the visiting stands, the student section roared with our team up by 20 points with a "WE WANT BROOMFIELD!" It's true, we do.
For the first time in the Class of 2022's career, we play the bird-things at home, and it is the same day we honor our 2021 Class 4A girls soccer state champs.
As one of our largest rivals, all we can say is that we want to beat them every time, because if you didn't know, if it flies it dies.
With the home gym being back open for our students, the basketball season will be more lit and exciting than ever, and if the boys keep playing with the tough defense they showed on November 30th, they will be a hard team to beat. With four more home games before the break, the Tigers will show up and show out in front of their school!