Friendsgiving
Thanksgiving is a day of giving thanks to everyone you are thankful for, and a holiday to spend with your family and show that you are thankful for them. A majority of us are thankful for our friends, and that's why a lot of people have Friendsgiving with their friends to show this. Friendsgiving is like a Thanksgiving dinner but for friends, it's obviously celebrated with friends and either on or near Thanksgiving. This has been a thing for years now and a lot of friend groups do this.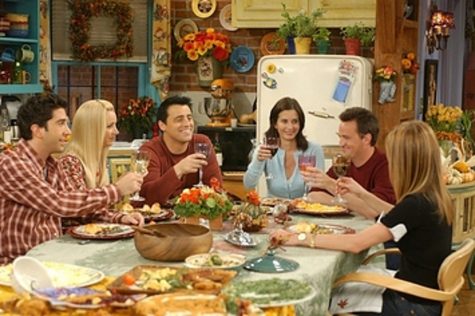 On Friendsgiving, everyone comes together like you would on Thanksgiving and eat a meal at the dinner table. For this occasion, you don't have to do the original Thanksgiving dinner like with turkey and ham. Instead you can prepare your meals different ways. Tiktok is where I first saw this Friendsgiving idea. There was one where I saw where each friend brings a side dish like mac & cheese, bread, dessert, etc… This other TikTok I saw had each friend created their own dips like salsa, guacamole, onion dip, and some other unique ones like s'mores dip, funfetti, and Reese's dip.
This year I had a Friendsgiving with my friend group, and it was really fun. We didn't have ours on Thanksgiving, instead we had it the Saturday after Thanksgiving. We treated it like a regular Thanksgiving dinner that we have with our families, but instead of turkey and ham as the main dish, we had spaghetti and had everyone bring a side that would go with the main dish. The sides that everyone had brought were things like salad, bread, fruit, and a verity of pies. After we all ate dinner, we went to the family room and played some games and watched a couple of movies. It was a really fun time, and I'm so happy we did Friendsgiving this year!