The Boys of Fall
The Tigers finished up their season last Saturday after battling hard in the quarterfinals of the playoffs against the No.1 Seed Roosevelt.
From the beginning of the game, we all knew it was going to be a tall order for the Tigers to hang with Roosevelt, who beat them 10 weeks earlier 49-7.  The Tigers went three and out on their first possession, but managed to intercept a pass around midfield. After another three and out, the Rough Riders were able to find the end zone first. Holy Family turned it over again, and were suddenly down 14-0 with only three quarters to go.
Tyler Stevens was all over the field on Saturday. In the second quarter, him and Rylan Cooney dialed up a 28 yards on a crossing route, which gained some momentum for the Tigers. Unfortunately, Roosevelt was able to chew five minutes of clock and then bash their way into the end zone, making it 21-7 right before half. The Rough Riders managed to score only nine seconds later on a pick six.
The Tigers were able to close off the half with a Jacob Lawver score, but failed to get the two point conversion, making it 29-13 at half.
The second half was full of scoring, with the Tigers scoring on all three of their possessions. The Tiger's offense didn't see the field until the 3rd quarter clock hit five minutes, but managed to piece together a nice drive, capped off by another Jacob Lawver touchdown.
The Tiger's defense couldn't find a critical stop, and Roosevelt managed to score two more times, and all the Tigers could do was trade scores with them. Tyler Stevens would finish his final high school game with six catches for 138 yards, and Jacob Lawver finished his afternoon with 58 yards and three TDs. Matt McCarthy also finished his career with scoring the final touchdown of the Tigers 2021 season.
Despite the final score being 51-33, a lot could be said about the Tiger's relentless effort and heart. They never gave up, and fought hard until the final buzzer, which is all you can ask for.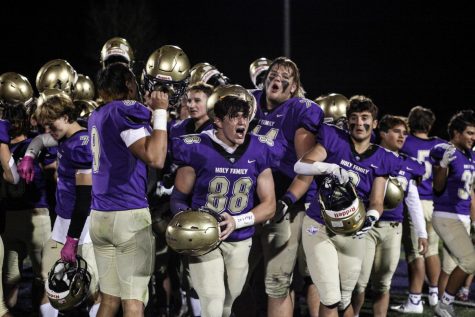 There is nothing for this team to hang their heads about, going 7-5 overall with the toughest schedule in 3A. They handled a good Pueblo South squad 34-27 in their first game, beat multiple playoff teams in Green Mountain, Frederick, Pueblo South. They also won leagues for the second year in a row, with three playoff teams in it.
Many people didn't expect this Holy Family team to do much… except for those who were apart of it. Our Tigers definitely made some noise. This team's unbreakable bond, amazing coaching staff, and immeasurable heart is what everyone will remember this team for. To the 29 seniors, we thank you all for what you have done for this community… on and off the field.