Homeless During the Holidays
As the colder months approach us, many have resorted to getting themselves prepared, whether by an overabundance of scarves and sweaters or turning up the thermostat to the highest temperature. While some of us have warm houses and beds to get back to after a long day, unfortunately that is not the case for the 9,619 residents experiencing homelessness in Colorado, specifically in the metro areas of Denver, Boulder, Aurora, and Colorado Springs.
Since the start of 2020, homelessness has been on the rise. Of those experiencing homelessness in Colorado, 665 were family households, 1,044 were veterans, and 2,954 were experiencing chronic homelessness.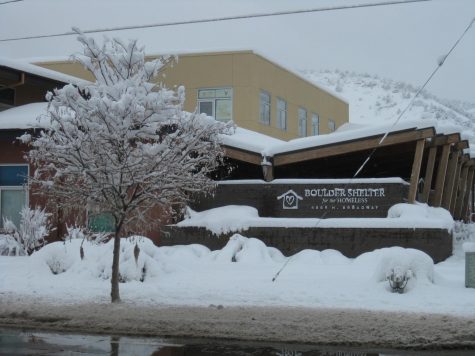 With the chilling temperatures, shelters have seen increased homelessness enter their establishments. Mr. Archibald, supervisor for the Boulder Shelter for the Homeless, remarked on this.
"Colder weather always brings with it an increase in clients seeking services. As the weather turns, we see an increase if people who have used services as well as folks who came during the nicer weather and are now suffering with the change," Mr. Archibald explained.
Not only has temperature had a role to play regarding the increased need for homeless shelters, but the pandemic also has limited the vacancy of these institutions.
"Due to the (understandable) physical limitations imposed by the fire Marshall, health department, etc, the capacity total is now 20 clients less (140 from 160) than pre pandemic limits, but even right now we haven't had regular turnaways due to being full. We will start regularly having turn aways as winter takes hold," Mr. Archibald stated.
"But there's another aspect to this, which is the Coordinated Entry side of things. If someone wants to receive sheltering or many other services, Boulder County asks them to complete a Coordinated Entry assessment. As someone who has been taking those calls and doing those assessments, I can say that the pandemic has seen a rise in calls. As renter protections expired, we saw yet another increase, this time a rather stark jump. States that had given less protection or had theirs end earlier ended up folks having to leave those states in search of better opportunities."
Boulder Shelter Homeless Center has worked to help efficiently house homeless residents by adopting a "housing first model", which mainly focuses first on getting people housed. The center prioritizes giving life skills in order to succeed, as well as sobriety and mental health sessions with providers.
The perpetuation of the stereotypes of homeless people are quite common within our society, as well as false assumptions of the reasons why there has been an increase in homelessness. While many attribute homelessness to the scarcity of housing, across the nation there are six empty places for each homeless person. While drug issues are prevalent among homeless population, the true can be same about individuals that have homes.
"As someone who has worked at the shelter a while, I've noticed that most people who find out what I do assume that most of our clients are "druggies." But it turns out that drug use and drug addiction of those without housing are right in line with the percentages of those who are housed. Personally, I've mostly seen addictions arise due to homelessness, as being without housing can be both traumatic and boring," Supervisor Archibald remarked.
There is no singular cause for the uptick of homelessness within our country, as it can be contributed to a myriad of factors. However, what is important to note is that many of homeless individuals have been exploited and degraded, whether in their jobs, their work, or their families. We can say that mental issues are a cause of homelessness, however what is more important to know is the effect that homelessness has on mental health, often with increased chances of abuse and having no place of comfort. 
"Abuse and violence of almost every kind is a lot more common without the protection of your own space. Just keeping yourself safe becomes something you have to actively think about. And you can't really let your guard all the way down, ever. This constant need for vigilance and the incidents that teach that lesson build up and can break a person down."
Homes are not just buildings, but rather they are crucial for one's safety, comfort, and mental health. As we continue into this holiday season, let us help those that are not able to have a safe place to reside.