Volleyball: And that's a wrap…
Tigers make a run to the final eight
And just like that… the 2021 Holy Family High School girl's volleyball season is over. From start to finish, we fought and earned our Tiger stripes. Through the adversity, we stuck together and came out on top, both on and off the court.
Although the whole season had some great games, it's safe to say that we hit the peak of our season during the Erie game on Senior Night. After losing against them earlier in the season, we dug deep and beat them in four on our second meeting of the season. All seven seniors got into the starting lineup that night and came together for a huge win! Our next games were against Roosevelt and Thomas Jefferson at Regionals. Sweeping both teams got us the #10 seed in the 4A State Tournament.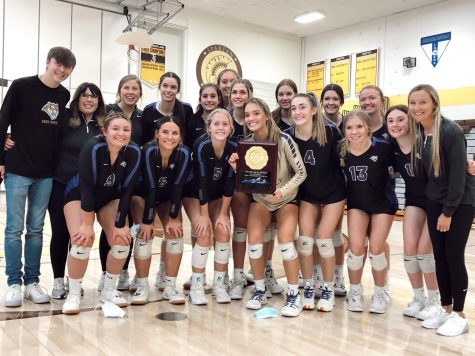 In Colorado Springs, the State Tournament started Thursday and our first opponent to start the weekend was against, none other than, the Erie Tigers. Seeing them for the third time this season could've intimidated any other team… but not us. We took them to four sets, beating them for the second time this year. Although we lost to the #2 seed, Cheyenne Mountain, later that night, being able to beat our rival one last time for the season was a highlight of the weekend.
Since we only lost one of the two games, we were able to move to the second day of the tournament on Friday. We went against the #9 seed Palisade and were able to take the win in four. Our next game was scheduled at 6:30 pm against Mead, another huge rival. Our court was running about three hours late, delaying our game until 9 pm. Although we lost this game in three, sending us home, our warmup, locker room time, and fight during the game is something none of us will ever forget. The pre-game hype before this game was unlike any other game all year. The loss to a team we've seen twice already was bittersweet… losing to a big team but gaining memories that are irreplaceable.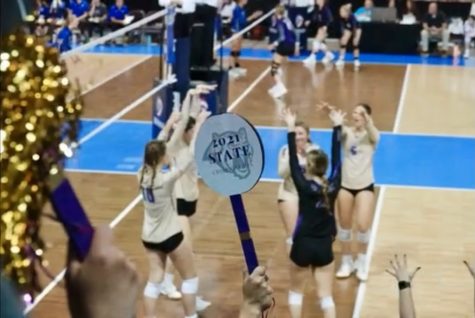 Not only did the team end in the top 8 out of all 4A teams, but individual players also got awards as well. Over half of the team got First Team Academic All-State if not honorable mention. Allie Ward and Megan Gonzales got First Team All-Conference honorable mention and Makenna Bertsch and Madison Forss got First Team All-Conference. It was a great year for Makenna and I to end our high school careers, being in the 10 players that made First Team All-Conference.
It's hard to fathom not having practice every day when you've been in such a constant routine for a solid five months. However, as the saying goes, all good things must come to an end. I have nothing but blessings and gratitude for a program that has created irreplaceable memories both on and off of the court. Thank you Holy Family Volleyball for allowing me to play the sport I love with the people I love even more. #2 signing out!