Cheer's League Recap
Tigers Walk Away With 2nd Place!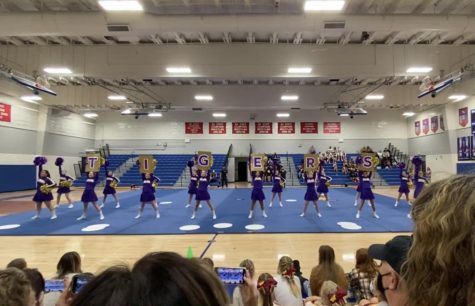 Along with cheering on the sidelines for fall and winter sports, cheerleading has a competitive season of their own. COVID pushed their competitive season all the way to March last year, and it skipped Leagues entirely, moving right on to State. This year's schedule, however, is back to normal. The League competition was this week on November 10th at Centaurus, and the State competition will be December 9th down in Colorado Springs.
Since the summer, the cheerleaders have been working hard to help the other teams with their school spirit, along with working on their own routine. The League competition was split into three categories: Game Day cheer, Traditional cheer, and Dance. The Tigers faced Greeley West, Silver Creek, Skyline, and Longmont in the Game Day section, and there were 18 teams in the competition overall.
Coach Lucy Nash was feeling confident in the team from the beginning. "I went in knowing we were going to place. I had a great feeling after our last practice and knew the team was ready to come home with a placement."
Not only did the cheerleaders participate in the competition, but they also worked it. Coach Nash ran the entire behind-the-scenes operations, as she works at Centaurus for her day job and was recruited to run the competition. The team got to the competition at 3:30 to start helping teams get to the correct stations for the correct times: stretching, practice mat, and competition mat. Once all other 17 teams were done, it was the Tigers' time to shine. At 8:25pm, they took the mat. "Once I run onto the mats to compete, all of my nerves go away," comments Senior Brooke Durland.
The girls killed it on the mat, taking 2nd place in their division with a score of 81 points, only coming up short behind Greeley West. Each team is given 100 points to start with, and as the judges see minor faults in the routine, such as lacking in sharpness, loudness, stunts bobbling, etc., they take away points. After the judges mark off for these small corrections, each team is given a raw score. Then, deductions for major faults are subtracted from the raw score.
The Tigers' raw score was 86 points. However, since poms were stepped on during stunts (a 5 point deduction), the Tigers ended up with a total 81 points. This score is much better than their 70 at the showcase earlier this year, and is projected to be good enough to go to finals at State!
Senior Alex Gollas remembers how she felt after the performance: "I felt a mix of emotions. It felt good to finally perform with my team. I'm super proud of the performance we gave, but also sad. Cheer is coming to an end soon and I'm going to miss it so much."
All the cheerleaders have to do now is continue their hard work and fix some of the little things at practice to do even BETTER at State. Senior Aradely Flores comments about her excitements for state: "I am looking forward to making finals and only bettering the stunts that I am flying in." Their score was amazing, and they hope to only get better from here!