Flying High with Donovan Romero-Castro
Everyone has something that they like to do. Some people like to play sports, some like to perform on the stage, and some like to write or draw. But, there are some people that have a very unique hobby that you won't find many other people doing, and one of these people is Donovan Romero-Castro.
Donovan might have the coolest passion out there, he goes out and flies planes, which is something you don't hear people doing very often.
Donovan started flying a few years ago when he was 13, but that wasn't the start of his love for aviation. He said, "It was always a childhood dream to become a pilot…there was one memory [when I was in the 6th grade] where I went on a vacation and the pilot asked me if I wanted to go in the cockpit…and that kind of sparked it."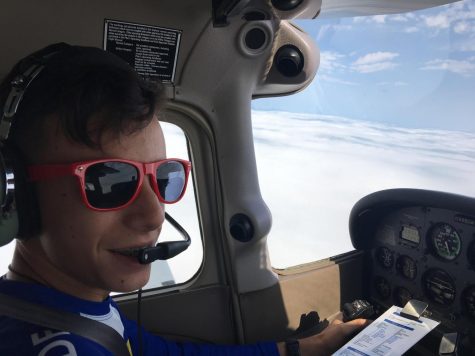 Currently, Donovan flies Cessna 172's, which is a small, 4-seat, single engine plane. But, unlike many others, Donovan does not find flying a plane scary. He said, "At this point it's pretty comfortable, I've been doing it for four, almost five years, so I'm pretty comfortable with what I'm doing…It was scary at first, but once I got in the air it was kind of like weight off my shoulders."
Donovan has no interest in letting his passion down anytime soon. He hopes to go to college for aviation and after that, go to the Florida Keys and fly planes.
On top of flying planes, Donovan has other things going on in his life, and like many other high school students out there, doesn't have a lot of free time. He said, "I don't really have a lot [of free time], I usually work and I rodeo."
Donovan is a very interesting person with a very interesting and unique passion.