Bowling for Gold
When you think of Holy Family High School Sports, you think of the BIG DAWGS. The softball girls, trying to collect as many rings as Tom Brady (we all try to be like the Goat).
The football team, pushing onward every year deeper and deeper into the
 playoffs. Jessica Mason, dominating the golfing world.
Every sport at some point has achieved greatness. That even goes for those sports that take place outside the school, and we don't even know about it.
Junior Adam Silverman has been bowling since the age of 5 years old. And he's pretty darn good at it.
Adam often bowls at Coal Creek Bowling Center, where he practices five days a week and bowls for fun.
Adam just recently recovered from tendinitis in his wrist, which had him sidelined for two weeks, but now he's back and ready to keep on working.
Adam recently had a tournament he unfortunately had to miss due to it being down in Colorado Springs, but plans on competing soon.
When asked his favorite aspect of bowling, Adam responded that it's the mental game for him. "It's such a big challenge when you're competing and you know you have to play your best, it adds a thrill to it. I really enjoy it."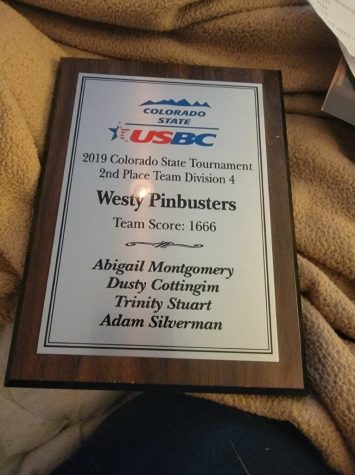 Adam also bowls on a team sometimes, competing against other teams for a combined score.
Adam, along with his team of Abigail Montgomery, Dusty Cottingim, and Trinity Stuart, scored second place at the 2019 Colorado State Tournament. They had a combined score of 1666!