Cross country: Going for Gold in Colorado Springs
With cross country coming to a close, the team is preparing for 3A State meet at the Norris Penrose Event Center in Colorado Springs on Saturday. After a decisive win for both the boys and girls at Regionals this past Thursday in Lyons, there is hope for our Tigers to take gold at State.
At Regionals last week, both the boys and the girls took first by a huge margin. Our boys got 39 points and the next team, Jefferson Academy, got 53 points. Our girls got 37 points and the next team, Jefferson Academy, got 54 points. Jefferson Academy was previously Holy Family's rival, but after that, it seems as though they are not a huge issue.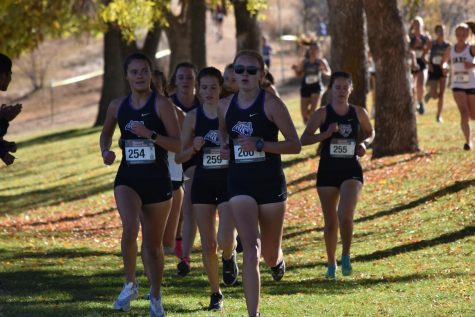 Going into State, our boys are ranked third in 3A, and our girls are ranked sixth. The boys are behind The Classical Academy and Alamosa, and the girls are behind The Classical Academy, Basalt, Alamosa, Berthoud, and Kent Denver. But, there is still hope for our Tigers to pass these teams and at least get second or first place. The team is willing to give their all to win this weekend, and for that they have a chance at gold.
Our Tigers aren't too worried about state, and neither is their coach Charles Shapiro, who stated, "I believe we are rested and ready to run our best race of the year." For the boys, he said, "There are five teams that will be fighting for the top spot. Can the Tigers win? Yes." And for the girls, he said, "There are at least eight solid teams…if everyone runs their best race, we can be in the top 2 or 3."
So, there are high hopes for our Tigers to place at state.
For now, our Tigers are doing everything they can to be on top of their game for state. They are very excited to give their race their all and hopefully bring Holy Family their second state title in the sport.