New Coach Heikke Nielsen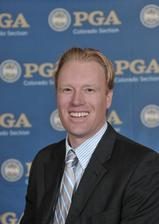 The girls golf team has recently made an exciting new hire! Still months away from starting the 2022 season, it has become official that PGA member Heikke Nielsen has become the new coach. Exceptionally qualified and talented, he also has a strong coaching philosophy that will benefit the team and elevate the program. 
Nielsen (previously the Head Golf Professional at Boulder Country Club and the Assistant Golf Professional at Cherry Hills Country Club) explains that he will give all players his attention and get to know their individual strengths and weaknesses. "For me, it's really all about player development," he says. "When I took this job I had been a PGA member for 23 years and I'd taught a lot of different types of players- really good players that have gone on to play at the PGA tour, and then players who are just trying to improve their game and have fun. I try to work individually with each of the kids and work with their strengths."
The team element is part of the reason why Heikke is excited to coach at Holy Family. "In all the years of being a PGA member I've played full time, ran tournaments, coached junior golf, I've never had a team. That's one part of being a PGA member that I've never been a part of, and that's something that really interests me a lot is being able to have a golf team and my philosophy of coaching and teaching blended together."
Even though golf is an individual sport, there is still a team component that many would agree with Heikke that it was previously missing. "The only way we are going to achieve our goals as a team is that we have to be a team," says Heikke. "When everyone is on board and supporting one another it can be a great thing and it's amazing how much better the scores will be and everyone will be really happy."
Heikke has also made plans to increase the amount of practices (even on the chilly Spring days) and has plans to get the players ready before the season starts. Heikke mentions, "I've put together different strength training exercises that will really benefit so you can hit the ground running. We are going to do a lot of indoor stuff at the Sports Stable, TopGolf, and things like that."
Heikke is sure to make the program everything it should be and more. Get ready for some great Spring golf!