The Life Ending Machine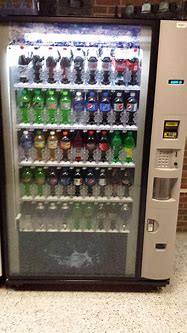 Are our lives at risk? More than merely the high sugar content within its products are likely to kill you. Warnings upon these machines attempt to keep users wary, though many succumb to their ruthlessness.
"According to the NEISS, between 2002 and 2015, vending machines killed roughly four Americans per year (and an average of 1,730 vending machine related injuries per year)," states a quote from todayifoundout.com. "This is a figure that, if correct, means that since the late 20th century, vending machines have either gotten twice as deadly despite the implementation of the warnings and additional anti-tipping mechanisms, or the numbers were previously significantly under-recorded."
"CPSC is aware of at least 37 deaths and 113 injuries since 1978 that have resulted from consumers rocking or tilting the machines," states www.cpsc.gov, which is quite concerning.
"After they kill me I have the sense that they will take my insides and place them on their shelves," says Abriana Ottoborgo. This is a very frightening proposition, which should bring attention to the sheer threat vending machines pose to humanity.
Ryder Osborn claims that he "violently shakes" whenever he sees a vending machine. He also said that they "have not slept in weeks" due to vending machines.
Kenneth Kirwin also said, "WARNING: DANGEROUS. APPROACH WITH CAUTION. MACHINE WILL ATTACK IF PROVOKED AND CAN KILL."
"I see it in my sleep. Every night, I have a dream where it kills my family in front of me. Help," says Joseph Carter.
Undoubtedly, this is very worrisome, and we have one of these machines within our school. What is it plotting? How are we to defend ourselves? What can we do?