Leah Fuller Lead Role in Frankenstein
Leah has been surrounded by stage performance from a very young age. "My mom is an actress so growing up I was surrounded by performing arts. Then before I came to Holy Family I would come see the shows my brother was performing in and I saw how good the performing arts program was here." She has grown up with multiple strong and supportive role models in her career.
Along with her family, Leah says Dani Flores has been her biggest inspiration. "As an underclassmen I saw her pour her heart into her performances and I wanted to do the same."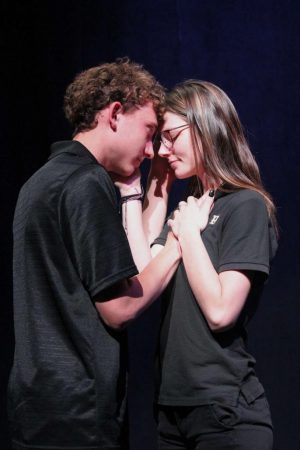 Leah and the rest of the cast have been working tirelessly to perfect their roles for the play. They can't wait to show the rest of the school and the community what they have all been working on. "I am so excited for our community to see the play because of how much all the actors, directors, and tech crew has put into this show. I am honored to share the stage with the other actors and am just so excited to show off all our hard work!"
This cast is full of dedication and talent and are so excited to show off all their skills and hard work.
The play will start November 10th and will go through the 13th at 7pm. Make sure to buy your tickets to see Leah and the rest of the cast on stage.