A Winter Changeup
From Sadie Hawkins to Winter Formal
Sadie Hawkins has been a staple of Holy Family for some time.
However, the student body has been thrown a changeup. The school is switching to a Winter Formal.
It has caused some debate amongst the student body, and I wanted to see where the students stood on the change. I only interviewed seniors and juniors because they were the only two classes to be here when we had Sadie's.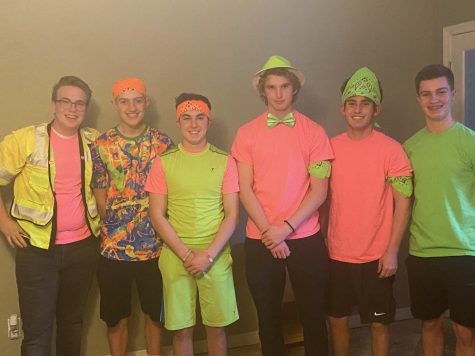 The students seem divided 50/50 on whether they like the change or not.
Senior Max Pougnet says that "winter formal would be hype."
And junior Sydney Lux states: "I think it's a great idea and will be a lot more fun. I'm actually really excited about it!"
People such as junior Nick Christoff think, "This as an absolute win. Sadie's was missing some hype because it was casual. I could definitely get behind a formal but I was not planning on going to Sadie's."
While others such as senior Luke Busot thinks, "No one wants to dress up for another dance, that's what made Sadie's so much fun. There was no stress or fancy clothes, it was just a show up and have fun kind-of-dance. They should cancel the Winter Formal and bring back Sadie's."
Then senior Pierce Kunz added to Luke's comment by saying, "I'm not a fan of the change because I've always felt that the non-formal dances were more fun and less stressful."
With half of the student body saying that a Winter Formal will be a lot more fun because you get to dress up and not being casual and the other half thinking the direct opposite, the school seems to be in a deadlock of opinion.
There has to be a compromise.
When talking about Sadie's with another staff member of the Lamp Post, senior Isabella Marquez, she mentioned, "I think that Sadie Hawkins is such a fun concept. Sometimes girls get tired of waiting around for guys to make the first moves and want to wear metaphorical pants. It's 2021 girls asking guys to dances isn't a huge deal it should be normal. Sadie's just makes it a little bit easier for girls to step out of their comfort zone and realize that they don't have to sit back and let the boys have all the fun."
So in our scholarly school, no doubt students seemed to have come up with another idea! Another member of the Lamp Post, senior Mia Paulson, sums it up perfectly, "Winter Formal, dress up and be elegant, but keep Sadie's logic of girls ask guys!"
What a great idea! Just like Hannah Montana, it's the best of both worlds.
Now will Winter Formal work out and perform better than Sadie's? And will our school adopt Sadie's logic of girls asking guys out to the Winter Formal?
Well, we must wait and see if the Formal is a success and I strongly push for the compromise of the girl asking the guy to the Formal it will be Holy Family's new thing and hopefully with enough practice a new tradition.