Gruden No Longer in the Vegas Cards
Emails that contained misogynistic and homophobic language from 2011 cause Las Vegas Raiders head coach Jon Gruden to resign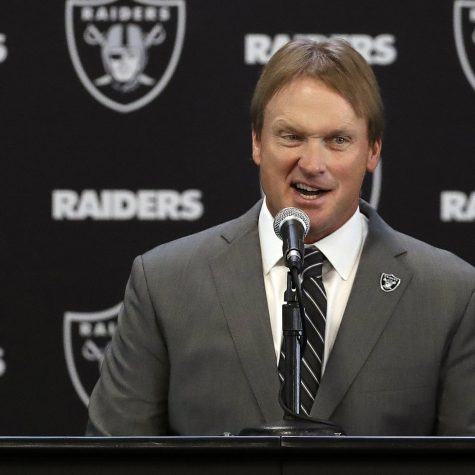 Jon Gruden stepped down from his coaching role late Monday night after an investigation of sent emails dating all the way back to 2011 got him in some hot water. The emails pertained multiple uses of foul language, homophobia, and misogyny and lead all the way up to early 2018.
One of the emails written was sent to former president of the Washington Football Team, Bruce Allen, in 2014, when Gruden was working for ESPN as a color analyst. In the message, Gruden called the NFL Commissioner, Roger Goodell, multiple profanities. The frustration came from Goodell pressuring Jeff Fisher, then the head coach of the Rams, to draft Michael Sam, an openly gay player. However, instead of referring to Michael by his name, he used multiple homophobic slurs to describe him.
Homophobia wasn't the only thing Gruden was bashed for.
In numerous emails from 2011 to 2018 Gruden also criticized Goodell for his safety precautions and trying to prevent concussions. His criticism included homophobic slurs and repeated uses of strong profanity. In the same emails, Gruden also suggested that Eric Reid, a safety for the San Francisco 49ers at the time, should be fired for kneeling for the flag.
Similar racist emails could also be found at the fingertips of Gruden.
Gruden, in an email in 2011, criticized DeMaurice Smith, the Executive Director of the National Football League Players Association, using racial slurs and tropes that insulted his physical appearance and intelligence.
But wait, there's more!
Gruden, in other emails, also denounced the emergence of women as NFL referees and sent multiple pornographic images of women to other NFL members, mainly to Bruce Allen. The shocking thing about the images was that they were pictures of cheerleaders from the Washington Football Team. Gruden also was found offering sexual acts in other emails to other NFL coaches, commissioners, and presidents.
Despite being a Super Bowl winning coach, Jon Gruden will now forever be remembered for these horrible acts and lack of leadership. He has already been removed from the Tampa Bay Buccaneers' Ring of Honor. Rich Bisaccia will serve as the interim head coach for the Raiders, who travel to Denver this week to play the Broncos.