Mr. Blair Night!!
Holy Family volleyball's student section this year has yet to disappoint. Every home game the stands are packed with Holy Family Tigers hungry to see some good volleyball.
This past Tuesday, even more kids showed up to support our beloved Mr. Blair. Instead of the traditional dig-pink game that many schools do in light of Breast Cancer Awareness Month, we decided to dedicate the night to pancreatic cancer.
A teacher, coach, and well-respected colleague, Mr. Blair is a familiar face among the Holy Family community. This year, he was diagnosed with pancreatic cancer. Anyone that has met him knows how much fight he has. He's an inspiration to all and to show our love for him, we changed the theme from pink to purple for pancreatic cancer.
Mr. Blair has been influencing lives at Holy Family for 40 years so it was our time to influence his life.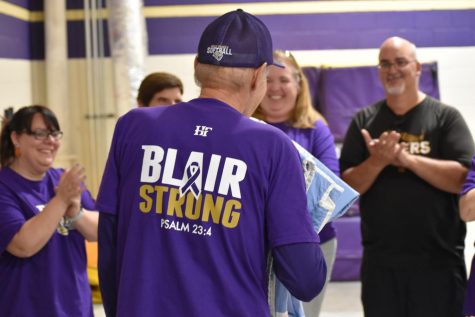 Before the night began, $1,500 was raised from ordered t-shirts. Throughout the night, the bake sale, concession sales, remaining t-shirt sales, and "pass the bucket", all raised over $2,800 which will be going towards Mr. Blair's treatment.
When the volleyball team hit the court, every dig, kill, and ace was for Mr. Blair. Like how he's fighting through terrible cancer, we fought for a hard win. Tigers volleyball ended the night with a big victory, finishing 3-1.
God works miracles-and science can work wonders- we need both.