Catholic Churches Targeted
October marks the start of Respect Life Month: a movement where people come together to fight against the implementation of abortion. While many peacefully protest, there are some who have taken their message to a violent extreme. Recently, Churches throughout the country have been targets of the pro-choice backlash, specifically seen within our home state of Colorado.
A Church in Boulder County was recently a victim of these attacks. Sacred Heart of Mary was tagged with explicit phrases and the detailed stained glass was shattered; much of the graffiti made mention of women's discontent with the Church's stand on abortion. Even with phrases like "Bans off our bodies" and "Jesus loves abortion" painted across their walls, Mass continues to be held and the members pray for the souls of those who had committed these crimes.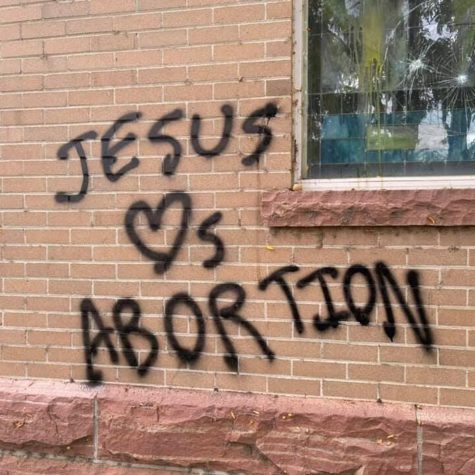 Another Catholic Church in Colorado was attacked by pro-abortion vandals: St. Louis in Louisville. Many awoke to discover "My Body My Choice" spray-painted across their doors; so too were vulgar pro-choice phrases drawn upon a sign in their garden, as well as much of their walls. Presently, three people are suspected of having committed this crime after being caught on camera; however, their identities are presently unknown.
Since February 2020, the Archdiocese of Denver is aware of at least 25 parishes or ministry locations that have been the target of vandalism, property destruction, or theft. This has included broken windows, damaged and defaced statues, graffiti, attempted arson, vehicle damage, stolen religious items, and other break-ins and thefts. More than 10 incidents have occurred in the last six months. USCCB states that "At least 101 incidents occurred across 29 states since May 2020. Incidents include arson, statues beheaded, limbs cut, smashed, and painted, gravestones defaced with swastikas and anti-Catholic language and American flags next to them burned, and other destruction and vandalism." Some of the incidents have been clearly targeted at the Catholic Church, but not all of them. The number could be higher because some minor incidents are not always reported.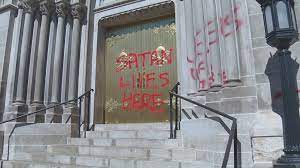 A few days ago, the Cathedral in Denver was vandalized. "We continue to pray for the conversion of those who carry out acts of desecration against our churches, statues, and religious  symbols," says the Archdiocese of Denver, after the most recent attack on the Cathedral in Denver. While not directly making mention of abortion, unlike most others, concerning and derogatory messages were spray painted upon the walls.
"I hope we can respond with a restorative approach rather than a retributive one. Restorative justice calls for us to seek out rebuilding relationships whereas retributive justice is mere punishment," explains Mr. Havey, a religion teacher here at Holy Family High School. "After the Crucifixion when Jesus returns to his friends who had forsaken Him, Jesus does not vengefully punish them, but speaks the word: 'Shalom'."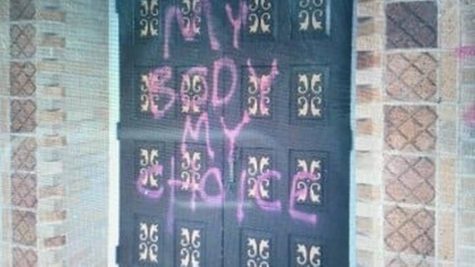 All that has happened in the past month is quite disheartening for all Catholics, especially due to the sudden surge of these attacks. However, instead of reciprocating these feelings of hatred, we should continue to pray for the souls of those who have found these actions worthy. Yes, they are defacing the buildings of Christ, places we mark as holy. But the only thing we can do is let God find mercy for them in His heart and pray that they can find peace in themselves.