From Hawk to Tiger
If you've been attending any of the recent Holy Family Football games, you may have noticed a new face on the sideline. That man's name would be Frank Ybarra. Mr. Ybarra joined the tigers coaching staff this past summer, making a name for himself with his hyped up and fun coaching style. As the season went on, Coach Ybarra continued winning over the hearts of the HF sidelines. To those that didn't know his name, he became "the cool looking bald coach." A true man of the people.
Recently, some changes in the Holy Family math department have been seen. Mr. Pallumbo had been apart of the math team, teaching Algebra 2, while also teaching Computer Science. About a week ago, he decided to just teach Computer Science, leaving the Algebra 2 spot open. Mike Gabriel turned to a man he knew has taught math before, and called up Mr. Ybarra. They talked, and Mr. Ybarra said, "It's something I've been wanting to do for awhile, and so it felt like a good move." I know many kids from Horizon High School, where Mr. Ybarra had his last coaching job. He would also serve as a math substitute teacher at the school, so when I would talk to my friends about this new coach we got from Horizon, they would all know the name "Ybarra" and go, "Oh coach Ybarra was the best. He was such a cool guy you guys are so lucky to have him."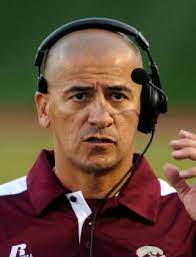 When asked in an interview, Mr. Ybarra had many things to say. He commented on how the main difference between teaching at a public school vs a private school is how the kids act, praising the kids at Holy Family, also talking about seeing everyone at the Powder Puff game, showing school pride and overcoming the challenge of not being able to play in a football game. He said he's greatly enjoyed his past few weeks at the school, and is super excited to see what else happens.
We wish Mr. Ybarra the best of luck in his teaching, and rest of the football season.