A Recap of the Boys Golf Regionals- STATE BOUND!
Tigers foursome is headed to Elizabeth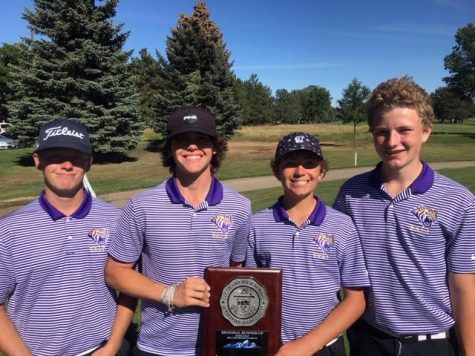 The regional golf tournament has always put a bad image in senior Ben Achziger's head.
Last season, Ben was competing for an individual state spot but unfortunately topped a drive directly into the water 50 feet from the box.
Ben stated in an interview with the man, the myth, the legend Jon Yunt that "I was thinking about it a lot in the beginning…"  Ben started off slow on the front, shooting a 43 on a 36. However he was able to eliminate the jitters early on in the back nine. In the last nine holes, Ben shot four pars and two birdies, which totaled his final score to only an eight over par. (79)
With Achziger's help, he was able to qualify the Tiger's foursome to state, with a team score of 247, which placed them second, only behind Colorado Academy. In a short third and fourth place was Severance with a score of 249 and Eaton, with a score of 252.
This Tiger foursome includes Rudi Heitz, Drake Krommenhoek, and Dustin Fouts.
Sophomore Rudy Heitz will make his second state showing this year. However, this regional tournament wasn't notable for him, as he shot 10 bogies and one double and didn't have a single birdie to record against it. The same could be said for Dustin Fouts and Krommenhoek. Fouts recorded eight bogies and three doubles and only combated that with seven pars. Krommenhoek shot 12 bogies and two doubles, and only four pars.  The main thing that hurt the Tigers mostly was their putting, as they recorded an unhealthy amount of three-putts on Tuesday.
The Tigers will face off at state on Monday, October 5th, and Tuesday, October 6th. They play at Spring Valley, in Elizabeth.