An Explosive Tradition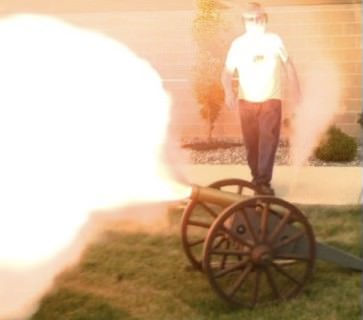 Anyone who claims that the HF football games aren't filled with school spirit clearly has never even set foot in Mike G. Gabriel Stadium during Friday Night Lights. Besides the great turn out and energy, the celebratory cannon is something that amplifies the atmosphere in a way that nothing else can. 
Bob Harder, also known as "The Cannon Guy" has been shooting off the cannon for 11 years; and the way he got started was rather coincidental. It all began when his daughter Angie was a Senior at Holy Family. "She was in a science class and they were talking about potato cannons. Angie made a comment that I had a cannon. The principal looked at her and said, 'Your dad has a cannon? Can he bring it up and show it to the police so we can shoot it at the game if the police say it's okay?' And that's how it all got started." explained Bob.  "I brought it up and did a test fire for the police and we agreed on how much powder to put in. Sometimes I accidentally put a little too much in, but that happens. I've been shooting it off for a while, it's year number eleven now."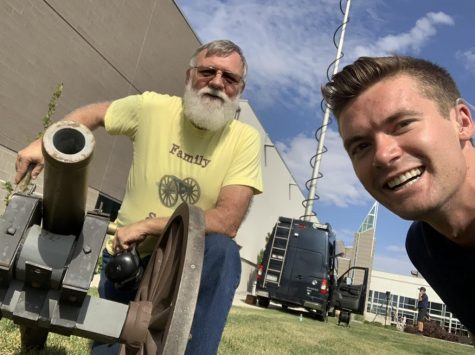 Believe it or not, cannons are not a commonly owned item. Where would one even find a cannon? Amazon? Target? 
Bob, who enjoys participating in pioneer reenactments, came across someone selling the cannon during an event about the 1800 fur trade. After buying it, the cannon's poor condition required Bob to use some of his good handy work. When it broke after trying to shoot for the first time, Bob had to rebuild it before taking it to Holy Family. If you ever find yourself in desperate need of a cannon repairman, Bob Harder would be an excellent go-to!
Having a cannon really sets our home games apart, and it doesn't go unnoticed by the competition. "It's a fun job," says Bob, "People come over and talk with me, and we joke around. I like to shoot it, and I like the recognition from the other schools." 
Obviously, the most exciting football games are when The Cannon Guy is kept busy. "About 15 shots in one game was the most I've ever done. I shoot after touchdowns, extra points, and field goals. Fifteen shots meant a lot of scoring, which was a lot of fun," says Bob. This clearly was not the case during Holy Family's game against Roosevelt last weekend, but there are plenty of games left in the season. Plenty of time for Holy Family to bring in touchdowns, and plenty of time for the crowd to pee in their pants a little after hearing those surprise blasts from that cannon!