Broncos Start Teddy Bridgewater
After months of built up anticipation, the answer is out.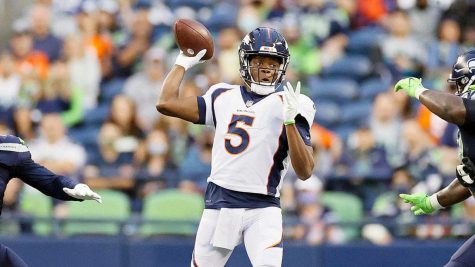 Drew Lock has been in a quarterback battle since Teddy Bridgewater was introduced to the team in early 2021. After a decently successful summer camp with the team, it was disappointing to see Drew have subpar performances in the first three preseason games.
Teddy completed 22 out of his 30 passes, 241 yards and three touchdowns. Teddy's consistency and his ability to throw check downs and improvise on the field is what won him the job. Teddy also brings a different dimension to Denver's offense: running. Teddy's athleticism makes it hard for defenses to plan for him. He can stand in the pocket and pick defenses apart, he can roll out and stretch the field, and he can make designed QB runs affective.
Lock didn't give up the spot easily. In these games, Lock has a combined 298 yards, three touchdowns, and completed 19 out of his 28 passes. But as the starter, Drew's numbers should have been higher and he should have lead the team to more scores.  In each drive, Teddy led the team to either a field goal or a touchdown. However, it is likely that Bronco's fans will see both QBs during the season.
The Broncos travel to face the New York Giants on Sunday, September 12th. And then travel to Jacksonville to face the Jags on the 19th. They return home to play the Jets on the 26th.