Straight from South Africa
The new school year has brought many new faces – and not just because of no masks. Jenna Mauck, the new English substitute for Mrs. Kam, was born and grew up in South Africa in the British province Kwazulu-Natal, original home of the Zulu people.
Mauck lived her whole life in South Africa, but she got her Masters in English in New York. Mauck and her husband, Garreth, have been married for five years, and they are loving their time in America. However, they have an open mind about going back to where they grew up. "I think we'll never close the door on going back to Africa. At least for the next five years we'll be here… I have a feeling it will be longer… I don't know what it's gonna look like when we have kids," Mauck commented.
For now, she is happy to be in America and working at Holy Family. Most importantly, she is "happy to be at a faith based school, that was always important to me." As faith is center to our education and lives at Holy Family, she feels right at home. Plus, she is positively influencing the lives of her students and the teachers around her. Mr. McGuiness, who switches classrooms with Mauck, said, "She's been a delightful colleague… in a sense we're all kind of new, and I've found working with her a really positive experience."
As expected, moving to America brought Mauck many culture shocks. The biggest shock for her was that, literally, "everything is bigger. The cars, the food portions, even the buildings are large. Everything feels magnified." Mauck was fortunate enough to live in "wealthy" South Africa, where culturally, it is very similar to America. However, she was still exposed to "poor" South Africa, and notices very big differences from that perspective. "In America, people have so much," Mauck commented. "In poor South Africa, people are living on their bones… Sometimes I want to shake people and say 'Do you realize how lucky you are?'"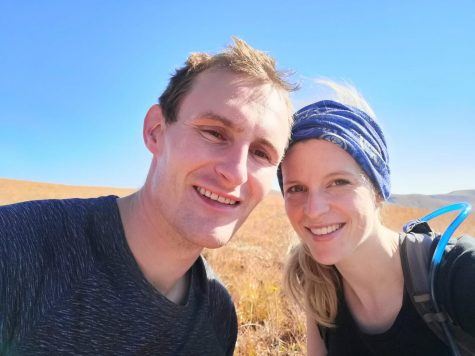 Mauck is even more than just a substitute at Holy Family, and is enjoying her life in America outside the school building. She likes to spend her free time hiking, going for coffee, (apparently, lattes in America are the same as cappuccinos in Africa), and cooking food that reminds her of home, including milk tart (a South African dessert), and a South African curry.
We are all very happy to have Mauck here with us. She is an amazing addition to the Holy Family staff, and the entire student body and staff is grateful to have her in their lives!