Cross Country Seniors Running for Gold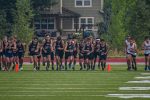 This year's senior class has always been gifted in athletics.
Whether it be football, track, volleyball, or any other sport, the class of '22 has always shown great promise, and the cross country seniors are no exception.
Ever since they were freshmen, the current cross country seniors showed great talent and some were even running varsity. As the years went on, they only got better and faster, and now we're excited to see how far they will go.
The cross country seniors are full of amazing talent this year.
Whether it be in the form of returning runners or new talent, there is a lot of potential for this season. Returning varsity talent is coming in the form of Evie Boyd, Andrew Descalzo, Elizabeth Boselli, Micah Munoz, Alyssa Jany, and Jake Vigil. They are also being joined this year by new up-and-comers, like Isabella Marquez, Brennan Hill, Ava Brunner, Luke Busot, Julian Franko, and Jeffrey Majcen. Along with the runners, there are also new team managers this year, Kate Villalobos and Elizabeth Diaz. With this senior line-up, the cross country team seems unstoppable.
Leading this legendary line-up is Coach Charles Shapiro.
Shapiro joined the Holy Family cross country team for last year's 2020 season. He ran for Boston University and the University of Maryland in college (many years ago) and now he's leading this year's team to victory.
Under his leadership, the team has improved dramatically, going from a good team to a great team, and same goes for the distance track team in the spring.
Previous coaches didn't do a lot of workouts or speed work, but under Shapiro, the team is pushing themselves to the limit to be the best cross country team that Holy Family has ever seen.
The cross country seniors show great promise this year and we're excited to see how well they will perform.
Saturday, September 11 – Liberty Bell @ Heritage High School
Saturday, September 18 – Lyons High School
Friday, September 24 – Dave Sanders @ Columbine High School
Saturday, October 2 – Mead Stampede @ Mead High School
Saturday, October 9 – League @ Lyons High School
Saturday, October 21 – Regional @ Lyons High School
Saturday, October 30 – State @ Penrose Event Center