Flowers of the Fairest
Friday, April 30, the Holy Family student body gathered all together for the first time since Ash Wednesday of 2020. On this beautiful sunny Friday morning, the school celebrated Mass and the May Crowning. To commemorate this day of the Blessed Virgin Mary, participants were encouraged to dress up and bring flowers to present to the statue of our Mother. 
The month of May in the Catholic Church is traditionally associated with a dedication to Mary. May represents spring and new life, and Mary mirrors this in her promise to bring our souls out of cold and darkness through her Son, Jesus Christ. The crowning of Mary with flowers represents Catholics' understanding of her as the Queen of Heaven. As pointed out by Father Joe Grady, in monarchies the subjects are of a person rather than a state. Because Jesus is the King of Heaven, His mother would reign as His queen.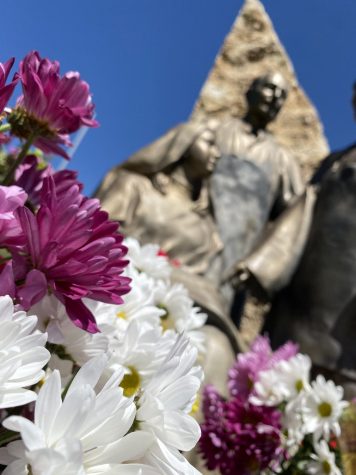 We as Catholics know Mary as the first and most perfect follower of Jesus. From her "yes" to God's plan for salvation, Mary's dedication to the Lord never wavered. We aim to imitate Mary's perfect devotion to Christ, and we may ask for her intercession to help us achieve this goal. Our Blessed Mother wants nothing more than to bring us to her Son. We dedicate the month of May to her so that we may remember to call upon her intercession, and to examine more closely her love and faithfulness. 
Holy Family gathering together once again to celebrate the May Crowning is a beautiful thing. In a way, it represents perseverance through the struggles of this past year. From being completely separated from one another when transitioning to online classes last March, to coming back to school in person, to now finally being able to celebrate together, our school and our world has grown in many ways. Father Joe provided a beautiful homily for the student body regarding the queenship of Mary. He reminds us to recognize our identity as subjects of the benevolent King and Queen of Heaven. 
We ought to use this final month of the school year to reflect on the ways that Holy Family has instructed us to love Jesus with the same fervor and devotion with which Mary loves Him. The students gathered together at Mass will only be together for a limited number of days. As we prepare to bid the Class of 2021 farewell, moments like this all-school Mass are bittersweet. But our school will continue to grow stronger, and we pray that next year more unifying moments will be available.