Coming to the HF Theater: Freaky Friday
Performing April 27th through May 1st, the Holy Family theater is putting on Freaky Friday as this year's musical. The performance will be attended both live and virtually. The theater will be open for audience members and ticket sales started this week on the Holy Family website: https://www.showtix4u.com/events/holyfamilyhs
The cast this year features seven seniors, including Caitlin Johnnides and Grayce Magsamen as the leads. "I'm the mom in the beginning, then I switch to the daughter in the mom's body and then back to the mom – which is kind of confusing," Grayce commented about her role as Katherine Blake. "I'm most excited to play a lead for the first time," Caitlin shared about her role as Ellie Blake.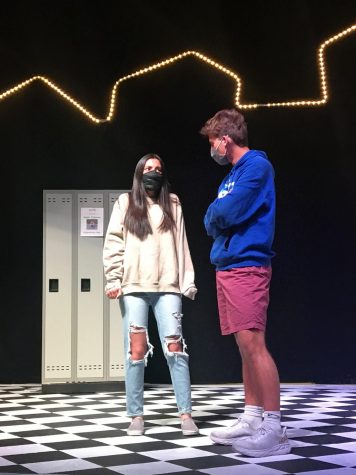 Freaky Friday is a Disney musical that was adapted to fit the Holy Family stage, and while it might be a little cliché at times, it's been a blast to rehearse and the cast is ready to perform! "I really like the choice! It's a Disney musical, so it's really lighthearted and fun. Some parts are a little cheesy, but in a cute way," said Caitlin.
Opening on April 27th, the cast and crew are in full dress and tech rehearsal mode. Every day they practice their roles from right after school until six at night. That's a lot of hard work! The things that go into a single rehearsal are exhaustive. "A full rehearsal is a lot of work, it takes constant focus and effort along with cooperation. It also takes passion in order to get through three hours of singing and dancing and taking notes about how we do things and how we can do them better," junior Leah Fuller (a member of the ensemble) shared.
The HF theater community is proud to announce that this year's performance will be mask free for the cast members! On stage, the cast will be able to sing and act while completely free to show us their beautiful faces. This wasn't an easy decision to make, and while it will enhance the performance, there were initially some concerns from a few cast members. "We rehearse with masks on, but we recently got approval to perform without masks! I'm a little hesitant about it, but I got my COVID vaccination so I personally feel better about that now," Caitlin commented.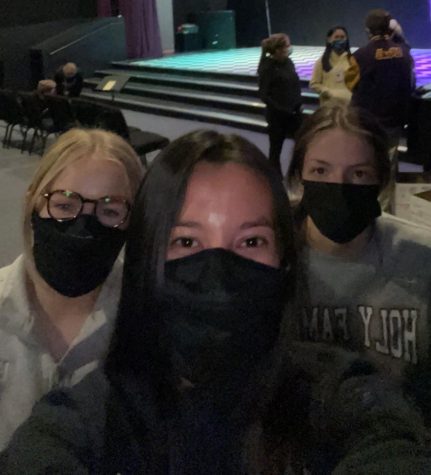 Because the cast will be mask free, the audience was moved further away from the stage to protect both themselves and the performers. "The audience is pretty far back from the stage which I am not a huge fan of but I am glad that the audience will be able to hear us better as well as seeing our whole face during the show. It will definitely be weird because we have been practicing with the mask on, so I'm curious to see how it will change the show," Leah said.
The HF theater cast and crew are incredibly close, and many people have found their best friends through this community. "The other cast members are pretty great! everyone is super sweet and amazing, they welcome you with open arms," said freshman Julia Merrion who plays wedding guest number six.
"Joining theatre has been the best choice I've made in high school. I've met some of my best friends through theatre, and some of my favorite memories have been made with the friends I've made in this wonderful community. I'm extremely close to the cast and consider most of them family," said Caitlin.