Do You Have Leader Potential?
Hugh O'Brian Youth (HOBY) Leadership is for high school sophomores to explore their leadership potential through inspiring leadership development programs. To be chosen for the HOBY leadership at Holy Family sophomores are nominated by their teachers. The program is for leader potential not the highest student in academics, but the student doesn't need to be a leader, this program is for students who show leadership potential. Lisa Doroff is in charge of  HOBY at Holy Family High School. In the fall she sent out an email about nominating sophomores next another email is sent with the nominees and now its time to pick one female and male.
State Leadership Seminars are three-to-four day residential programs, typically held on a college or university campus. The leadership conference will take place on the 26th and 27th of June. Typically the conference is a four day workshop at the University of Denver, students normally stay in the dorms and get the chance to connect with other sophomores around the state and do activities to become leaders.  Unfortunately, due to Covid the conference this year will be virtual not in person.
This years winners are the lovely Molly McGarey and William Hughes. Both attended the school of St. John the Baptist before coming to Holy Family.
Molly McGarey  is the youngest of 3 in her family. She has two older brothers Daniel and Patrick, who both attended Holy Family. She plays volleyball, both club and hopefully for Holy Family this year. Molly also plays Tennis at Holy Family. On her free time she enjoys playing with her dogs and spending time with her friends.
Molly is very excited and honored to be selected for the HOBY conference. She was not expecting to be selected and has come as an exciting and confidence boosting surprise. Molly stated that she did not know anything about HOBY before being selected is why it came as a surprise.  "As far as seeing myself as having leadership potential, that is a difficult question. I always work my hardest and try to be the best I can; in this sense, I can see myself having leadership potential. Being selected has definitely made me see that maybe I do have leadership potential; it was definitely a confidence-boost to hear that my teachers have picked me out of the grade as worthy for this opportunity. I am hopeful that this experience will also help me to see myself as a future leader in my community and my career," Molly Said.  She is very thrilled to interact with other sophomores around the state through this experience. She imagines that it will be a great experience to collaborate with other high-schoolers who share a potential for leadership and a drive for opportunity.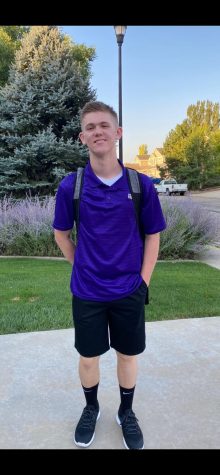 William Hughes is a 16 year old Sophomore at Holy Family. He lives in Longmont with his parents and brother, and went to St. John the Baptist Catholic School. Will plays both baseball and basketball for Holy Family and has loved sports his whole life. His favorite music is classical rock and he enjoys hanging out with friends.
William felt very honored to be picked for HOBY. He had very been nominated for anything like this it was very humbling. He did not know anything about HOBY before being selected for it. William sees himself as having leadership potential as he enjoys working with others and feels passionate about setting goals and achieving them.  "I am very excited to be a part of HOBY, to meet other sophomores, and expand my leadership skills with them. I am interested in learning about their high school experiences and their interests/goals," Will shared.
Congratulations Molly and William for this amazing honor of being picked for the HOBY conference 2021!