Coffee House: The Show Must Go On!
If you didn't witness the virtual Coffee House Variety Show this weekend, you missed out on the best performances of the year. From original masterpieces to spectacular pianists, the Coffee House showcased the amazing talent Holy Family students have to offer.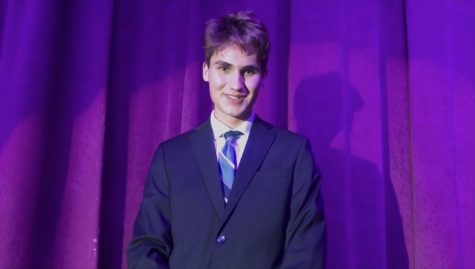 The virtual Coffee House ran just as smoothly as it would've in person. Holy Family Senior, Jake Lucko, was the host of the show, and we couldn't have asked for a better one. With Jake's fun remarks and comments, the transitions between the acts were seamless. Additionally, Jake took a break from being a fantastic host and performed a comedic piece from a Speech competition as well.
One of the most impressive acts (in my opinion) was the song "Right Person Wrong Time" performed by Senior Lindsey Deau. The song is both written and sung by Lindsey, and can easily get stuck in your head. When asked what drove her to write this song Lindsey explained, "My experiences and my friends inspired my song."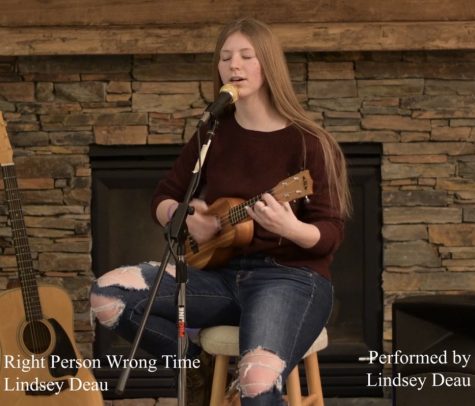 Lindsey also told us her opinion on the Virtual Coffee House by describing, "The video compilation was the best we could do in our circumstances so I was pretty happy with it. It would have been better in person because I always love seeing the community come out and support the students. I'm glad that we all had an opportunity to perform this year for sure!" As Lindsey explained, the Coffee House was adapted to a virtual platform, and was still amazing. Despite not being able to be in a physical audience, viewers were able to watch the performances from the comfort of their homes, and cheer on their favorite acts. 
Mrs. Barger, one of the performing arts teachers at Holy Family, explained, "We, of course, wish that the Coffee House could be in person, but for safety reasons we felt hosting the Coffee House online this year was the way to go.  Hopefully, we can all return to in person events in the near future, but I believe we will also keep a virtual option to widen our audience.  Offering a virtual performance allows friends and relatives from other cities and states the ability to enjoy the experience as well.  You can also enjoy your favorite cup of coffee just the way you like it as you view the variety of acts, and patrons can stay in their pajamas as well."
Barger brings up how, thanks to the virtual format, family and friends from all over the nation had the opportunity to watch this year's Coffee House. Barger goes on to say, "Although I think we all wish we could be in person, there have been some creative uses of technology when recording acts.  I am always amazed at how students turn adversity into advantage!"
Many of the performers did use the virtual format to make their acts even more spectacular. For example, Senior Rachel Gallegos, recorded herself singing four different parts for the song "The Gospel Truth" from the movie Hercules. Rachel sung four people's parts, each with their own personality. 
Rachel's opinion on the show this year was, "I liked the Coffee House. This is the first time I've participated in it. It would have been cool to be in person but the act I performed wouldn't have been possible unless I split into four people. I was kind of sad because some of the acts were cut off so hopefully they got that fixed. I just hope we fundraised enough money for the theatre and music departments."
Rachel brings up how near the end of the virtual Coffee House, there were some unfortunate technical difficulties. Junior Nathan Wilden's solo act was unfortunately cut in half, as the video decided to end a bit too early. A sneak peak of the musical with a cast performance of "Oh, Biology" from Freaky Friday was also cut off. Thankfully, the video will be fixed soon and sent to all those who purchased a ticket, so you won't miss anything!
I would like to wrap this up with a few of my personal favorite acts from the Virtual Coffee House.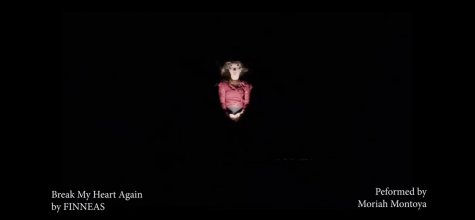 My ultimate favorite was a dance performance done by Moriah Montoya. Moriah used the flashlight of her phone to create an incredible effect on her performance, making it absolutely captivating to watch. There wasn't a second of her dance that I wasn't completely sucked into, and can't wait to see some future performances. Another act that caught my attention was an electric guitar over of "Faded" by Alan Walker. This was professionally done by Reagan Mraz, and was music to my ears. I would've never thought to put an electric guitar to a song like "Faded", but I am so happy Reagan did. The music and the guitar melody blended together perfectly, and I can't wait to hear what else Reagan has in store for us.
Overall, the first virtual Coffee House was a huge success. Every act was spectacular, and all the performers showed that a global pandemic will not stop them from putting on an amazing performance. The show must go on!