Boulder Shooting: What you need to know
10 people died at a King Soopers
What happened? Ten people, including a police officer – 51-year old Eric Talley, were killed in a mass shooting at a King Soopers in Boulder, Colorado. Let's say this again, a King Soopers. The suspect was shooting with an assault rifle, a pistol and was armored in assault gear his only goal to kill innocent victims.
The Suspect? Police identified the shooter — who will remain nameless in our publication — who is now in custody and charged with ten murders in the first degree. There is no specific motive, authorities have yet to share any information.
America has had two mass shootings in a week. Atlanta and Boulder. So many victims believed that being at a store, a school, or even church would be their last minute living on earth. When will gun violence end?
Authorities in Boulder identified the names of the deceased victims in the shooting. Including a police officer, a young worker, and a retiree.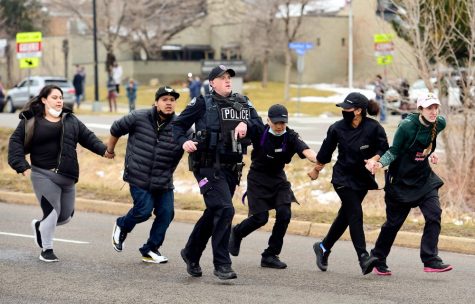 Talley was the first officer who had responded to the barrage of the shootings in a 911 call. He was fatally shot, leaving Colorado a loss of an amazing officer who worked hard and sacrificed his own life to save other people. A devoted father of seven kids, and an amazing husband to his wife, Officer Talley will never be forgotten.
The nine other victims who were killed are Denny Stong, 20; Neven Stanisic, 23; Rikki Olds, 25; Tralona Bartkowiak, 49; Suzanne Fountain, 59; Teri Leiker, 51; Kevin Mahoney, 61; Lynn Murray, 62; and Jody Waters, 65. Never forget their names. They died too soon at the hands on a gun, which should've never been present.
Eighteen year old Taylor Shaver was working in a dry cleaning business near the store when she heard ten gunshots and saw people running from the store. "I have never seen so many police officers in my life." Taylor stated. People walked out with their hands up, relieved that they had their protection once they left the store.
Sarah Moonshadow was at the checkout with her son, buying daily household necessities when she heard shots being fired. Sarah and her son hid, counting shots. When she counted to the fourth shot, she told her son that they had to run. When they ran out, they saw a body lying on the floor. After they made it across the street, Sarah cried, breaking down because she realized that not only she saw a dead body, but her young son did too.
In Atlanta Georgia, a gunman shot eight people, six of who were Asian descent. Now, Americans are unsure of what life will look like two weeks from now. Whether people are able to survive by going out to the store or school, possibly church or a park. It does not feel safe everywhere.
Vice President Kamala Harris and President Joe Biden have spoke upon these shootings. Biden is offering flags to be flown at half-staff to honor victims. According to CNN in this statement, released by the White House, they said "As a mark of respect for the victims of the senseless acts of violence perpetrated on March 22, 2021, in Boulder, Colorado, by the authority vested in me as President of the United States by the Constitution and the laws of the United States of America, I hereby order that the flag of the United States shall be flown at half-staff at the White House and upon all public buildings and grounds, at all military posts and naval stations, and on all naval vessels of the Federal Government in the District of Columbia and throughout the United States and its Territories and possessions until sunset, March 27, 2021."
Grocery store workers have already shown bravery by helping people amidst a deadly pandemic. Now, with trauma and fear of shootings, they stand strong and keep working despite being traumatized.
When will this end? Killing the lives of innocent Americans, leaving them in fear for wanting to get on with their lives. Why is there so much hate and violence? Why do people need a gun so badly in a state or in an area with schools, stores, churches, work places, and more. Many people believed that this would be their last time. Calling parents and children, wanting to hear their voice before they unknowingly leave the earth.
On Monday night, Boulder's Flagstaff Star was lit in honor of the victims who died. Shared grief in a tragic shooting, that should have never taken place. America has become used to this. Now, America needs to becomes used to preventing gun violence and preventing the wrong hands getting a weapon that can harm others' lives for good.  Gun violence has been scaring people, if you care about others' lives, then prevent the wrong people from damaging them. Accept stricter laws.