Music to My Ears!
The Spring Concert, headed by choir teacher and director Mrs. Chandler, makes its big debut on March 11th, with Holy Family students and parents being able to watch from the comfort of their homes on the Holy Family Youtube Channel. Due to the pandemic, concerts are recorded during the school day and edited by Orchestra and Band student Kevin Berry. Other implementations, such as special singing masks, have also been used to help promote safety while singing.
"The singers are wearing a special mask called 'Singer's Resonance Mask'," Mrs. Chandler stated, "which has a built-in structure that allows plenty of space in front of the mouth to breathe and shape our words without fabric restricting our technique."
Aside from the abundance of safety measures, students have to go through a variety of drills in order to prepare for the concert, such as memorization of notes, rhythms, and musical basics. Other preparations include "fine tuning" techniques, including "intonation, breathing, dynamics, expression, emotions, and memorization."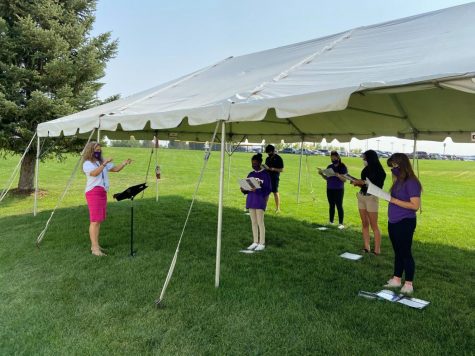 "The two acapella pieces were learned with a more student-led approach," Mrs. Chandler explained. "I used minimal help from the piano as part of our study of sight-reading and solfege. I jokingly refer to those pieces being the 'kale salad' of our musical feast- more difficult, but very good for us!"
Perhaps the most exciting part of the concert is the musical selection, complete with a multitude of Black gospel, Latin hymns, and folk songs. Pieces include "Omnia Vincit Amor", a Latin acapella piece which means "Love conquers all." Mrs. Chandler also included songs in honor of Black history month such as the "The Storm is Passing Over," written by Charles Albert Tindley who is considered one of the fathers of modern Black gospel, and notable for his contributions to social justice. Other songs include those from the renaissance era, such as "All Yee Who Music Love" by Thomas Oliphant.
 "For one, I'm just so excited that we are able to meet in person and able to sing safely during the pandemic," Mrs. Chandler said. "I love all the music, especially the gospel songs! I also get really excited for my students' accomplishments, many of which may not be noticable to most audience members."
Filled with a delightful collection of musical pieces from a diverse range of artists, the Spring Concert not only is a performance, but also a representation of the hard work and perseverance of students and staff alike.