The Verdict Is In: Mock Trial is Guilty of Being Awesome
Objection! Mock Trial is one of the most interactive clubs here at Holy Family, where a real-life trial takes place. After a lot of hard work, time, and effort, the students in Mock Trial must plead their case in front of a judge. The only question is, are they innocent or guilty?
It is recommended by many who are part of the team, especially for those who want to go into law in their future. There are all the different components of a real trial: witnesses, judge, jury, prosecution, and defense. There are two kinds of witnesses: eye witnesses (who have details on the crime) and professionals (who study the scene and hypothesize based on their knowledge of the subject). The judge usually has experience in law or is an actual, real-life judge. The jury is the audience, people who are sworn in on the case. The lawyers for the prosecution try to destroy credibility, and the defense tries to prove the innocence of the one on trial. The rounds are decently long, and can go over two hours. However, each member still enjoys their time in the trial and the unique experience of law.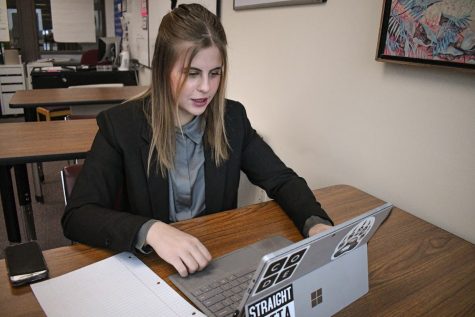 Makenzie Dana, a junior in the club, loves the different challenges mock trial brings. "I had a lot of fun on the mock trial team, it's a cool club because you compete. It's a lot different from other activities I've participated in, such as sports or speech and debate. The experience was weird this year because of zoom, but the team and the coaches made it especially awesome. Father Joe, Ms. Baker, and Mrs. (Jody) Alderman all coached us this year and helped us prepare. You do have to dedicate time and effort to it, but it's worth the experience and is a great way to meet new people."
Everyone enjoys the experience, even if it is difficult at times. The team continues to recruit, looking for those willing to put in hard work for rewarding results. Junior Jake Vigil comments on his entrance into the team and how it boosted his confidence: "Well, initially I didn't really know what one actually did in mock trial. In fact, I didn't really bother signing up for it because I thought that it was all only debate (and as many know, I'm more of a speech guy than a debater). My friend, Emily Bell, was actually the one who got me to join this year when I mentioned that I wanted to go into law. Senior and captain of the mock trial team, Devin Kircher, also convinced me to join stating that 'mock trial is a must for future law students'. I cannot thank them enough for getting me involved–it's because of them that I have more knowledge on the subject, am less afraid of argumentation, and am more willing to speak in front of large audiences."
Ms. Baker, one of the coaches, also has a major hand in persuasion to join. Senior Grayce Magsamen says simply, "Ms. Baker told me she would fail me if I didn't join."
The Holy Family Mock Trial team did amazing at the 2021 trial, walking away with multiple awards. Liam Burns won "Best Direct", Grayce Magsamen won the 2nd Best Avery, Maura Lorden won "Best Sifuentes", Samantha Genzer won 5th Best Witness, Emily Bell won 10th Best Atty, and the HF Team A won the Professionalism Award.
This amazing, competitive club obviously prepares anyone for prelaw, but it also builds confidence, public speaking skills, and a stronger ability to synthesize research. "Mock trial will give you the opportunity to expand your speaking skills, become better educated in law topics, and meet some amazing people. Moreover, it is a very well-liked extracurricular, especially by law professors and universities, so it will look really good on college applications. Also a bonus… for tournament lunches we cater chick-fil-a!" Jake commented.