HF Continues to Strive for Unity
Holy Family's Diversity Club is still going strong! Since the beginning of this school year, Holy Family has finally been actively combating racism and promoting inclusivity throughout its community. HF Unity has been responsible for educating students about other cultures via the announcements, decorating the school with posters promoting diversity and inclusivity, and generally improving openness to conversations about race.
"So far, Diversity Club has done announcements and posters, such as that for Hispanic Heritage Month and Native American History Month. We are currently doing both for Black History Month, and are planning to do more to bring awareness to cultures, hopefully through guest speakers, culture days, and presentations post COVID," said junior Chinwe Onwere.
As long as it has been running, the Diversity Club has been effecting the lives of the students involved in a very positive way.
"What I really enjoy about this club is that we are not afraid to be honest about the issues that we are seeing around the school and that we genuinely want to do something about it. Everyone is really thinking about ways to get rid of the social issues and contributing in any way they can," said senior Celeste Garcia.
The members of the Diversity Club are becoming more and more active in their participation within the club, and by doing so, are raising awareness for social problems that are a big part of our culture. Diversity Club's primary focus remains to open safe, productive conversations about cultural issues surrounding race, inclusivity, and diversity.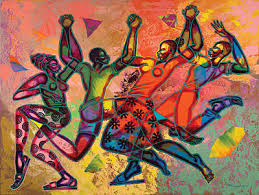 "The club has led me to not be as ignorant about the social issues that I've seen and informed me of the issues I haven't seen. I didn't realize how bad it was until I joined this group and listened to some of the stories from my peers," Celeste commented.
Chinwe stated, "Diversity club has allowed me to really evaluate the importance of 'hard' conversations, about injustice, racism, and poverty, especially in Holy Family. It has allowed me to develop deeper friendships with the members of the club, and hopefully we can make an impact that goes beyond the walls of Holy Family."
Diversity club will continue to promote unity within the HF community as well as combating the harmful effects of racism and discrimination that effect our day to day lives.