Bump, Set, Spike!
Holy Family scores big time with new head volleyball coach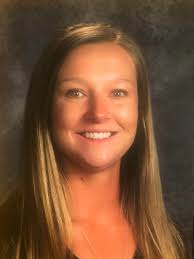 Holy Family has found the final piece of the puzzle. Most know her as the Lifetime PE class teacher, but Coach Jenna Gallas is also the new head volleyball coach for our Lady Tigers.
Her story is the perfect example of following your passion and how important it is to love what you do.
Being a volleyball player herself, Coach Gallas played all through high school at Rocky Mountain High School as well as NORCO Volleyball Club.
Gallas always knew she wanted to teach. She has been a teacherand coach for 11 years. She attended Fort Lewis college where she received her undergraduate in Exercise Science for K-12 teaching. She also played on their co-ed club team, but she realized that she also loved classroom teaching. She decided to attend Grand Canyon University and got her master's degree in Elementary Education.
After receiving her education, Gallas took a position at a K-8 school in Greeley where she was in charge of the volleyball program.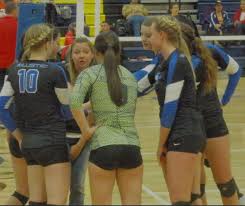 But, if that wasn't enough, Gallas also coached club volleyball at the same time. She has coached club volleyball since she graduated college. Only a handful of her experiences include coaching Premier Volleyball Club prepare for junior nationals, and coaching for Ballistic Volleyball Club.
Being a such young coach right out of college, she definitely caught the eye of other coaches and clubs. After coaching all age levels in the club world, she was asked to become the Assistant Director of Ballistic Volleyball Club. Not only does Gallas have experience out on the front lines of the court, but also what it takes to run a club from behind the scenes.
"Teaching and coaching run parallel for me. There are so many connections that I can make. The most important thing for me is getting to know kids, having relationships and being able to have an impact on their lives both spiritually, physically and mentally," said Gallas.
When Holy Family caught wind that they were missing out on Gallas, Mr. Peterson reached out and personally asked if she would like to become the head volleyball coach. The decision to leave her current setting was not an easy one. Gallas always considered herself as a Christian teacher in a public setting and loved being able to educate children based on her beliefs. She saw the offer as a way to still continue her education but not have to worry about barriers when it comes to teaching spiritual aspects as well.
"Helping students achieve excel their potential and impacting lives beyond the requirements of coaching or teaching is my base." Gallas commented.
Coach Gallas has left an special and unique impact on those who teach. Past students and players of hers still keep in touch with her to this day and have invited her to their weddings and baby showers. It takes a special kind of mentor and coach to make a big of impact as Gallas had on her students and players.
"Seeing the impact I've had on their lives is such a great feeling and makes it a rewarding career."
Coach Gallas is such an inspiration to all from her contagious smile and laugh to her encouraging style of teaching. We can't wait to see her impact this year on our volleyball team.