Tigers Take to the Tank With Big Expectations
Holy Family's swim and dive team is back in season, and starting off strong.
Unlike last year, in which the team was in the Tri-Valley League, Holy Family will be competing in the Northern Colorado 3A/4A League. Other teams in this league include the Greeley schools, Skyline, Centaurus, Silver Creek, Erie, Windsor, and Longmont. The season includes three home meets, two away, as well as Conference finals and the State meet.  
The team's first meet took place January 26 against Skyline. The young team blew it out of the water- the meet was a huge success, as our Tigers won every event. The final score was 132-42.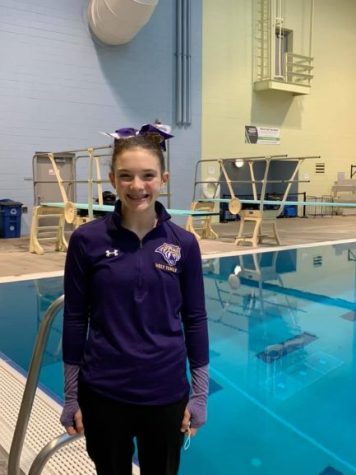 Perhaps most notably, freshman diver Mary Kate Cavanaugh scored 477.60 points in her event, surpassing the standing Class 3A state record. Cavanaugh clearly shows a lot of potential, as well as freshman Cate Chapman. Chapman went 2:22.16 in the 200-yd individual medley, and 1:00.48 in the 100 backstroke.
Cavanaugh expressed her thrill, stating "After I competed, I didn't know what my score was until Coach Mary pulled me aside, told me the good news, and then gave me a big hug! It was very shocking to me that at my first high school meet, I unofficially broke a 3A state record."
According to coach Mary Whitney, "We also have a lot of new talent that was brought to life.  Mary Kate Cavanaugh and Cate Chapman will be forces to be reckoned with over the next few years, so get used to hearing their names!"
The entire team of girls was very successful, and their determination shined through their performances. The team meets every morning at 5 a.m. to train together, and practices extend beyond that as well. However, as Whitney explains, the group's positivity and supportive nature make meeting so early much easier. 
"Everyone always asks what they can do better, how they can improve, and what they can do for the team," she explains. "Our team really is a big family and that helps everyone in more ways than they know.  The positivity, the cheering, [and] the hugs… help everyone on the team keep going even when they don't want to.  It's amazing how kind and caring the girls are to each other no matter the situation." 
Whitney and the team have high hopes for the rest of their season. Like most other extracurricular activities, they have had to make many adjustments to their routines, including finding a new practice pool and arranging times in which to meet. However, this was clearly not going to stand in the way of these girls.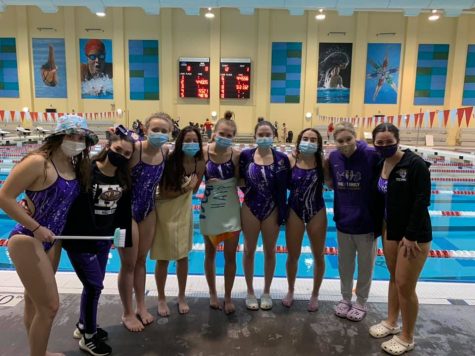 As Whitney puts it: "Together the team and I will overcome every obstacle the world may throw at us, with the help of God too."
The future looks bright for Holy Family's swim and dive team, and the whole high school is buzzing with excitement from the news of their success.
Whitney could not be more proud of her girls: "This group is truly a coach's dream."